All about the CANADA and THE SALISH SEA.
The tour package inclusions and exclusions at a glance
What is included in this tour?
Items that are included in the cost of tour price.
Accommodations aboard ship
Included shore excursions in every port
Onboard meals and entertainment
Pre-cruise hotel
Transfer from pre-cruise hotel to ship
House beverages, including liquor, wine, beer and soft drinks
Expert guides and lecturers
Whats not included in this tour.
Items that are not included in the cost of tour price.
Gratuities for ship staff and any shore excursion personnel, such as tour guides or bus drivers.
Airfare
Port Charges ($459)
Travel insurance
Pre- or Post-cruise hotel, tours or transfers
Day 1

ARRIVE VANCOUVER, BC, CANADA

Overnight in your included hotel. Experience European charm and Canadian warmth. Arrive earlier to see more of Vancouver and British Columbia.

Day 2

EMBARK IN VANCOUVER, BC, CANADA

Board your extraordinary ship in time for welcoming cocktails and a lovely five-course dinner as we begin this journey of discovery. Sail into Canada's Inside Passage filled with anticipation. One included and one premium shore excursion.

Day 3

CANADIAN INSIDE PASSAGE - PRINCESS LOUISA INLET, BC, CANADA

The first people to explore these picturesque waters did it in hand-carved cedar dugout canoes. You will enjoy an intimate connection to this place as Ocean Victory takes you through a narrow maze of channels, passages, and reaches from Vancouver Island to the northern edge of British Columbia. The secluded Princess Louisa Inlet, only five miles long, is the only true example of fjordlands on the Pacific Coast. Mile high cliffs rise from placid waters with dozens of waterfalls.

Day 4

COPELAND ISLANDS, BC, CANADA

On this rarely visited collection of islands and islets with protected bays and thriving marine wildlife, you'll discover a kayaking paradise here, sometimes called "The Raggeds."

Day 5

ALERT BAY, BC, CANADA

Home to a rare cedar swamp, old growth trees, and the world's tallest totem pole, a highlight here is the rare collection of cultural treasures, including masks, shields, and dance regalia.

Day 6

CORTES ISLAND, BC, CANADA

The long, narrow inlet at the northwestern tip of Cortes Island is home to an undeveloped marine wilderness, a joint venture between the Klahoose First Nation band and BC Parks. Coast-Salish people call the old-growth forest "Ha'thayim."

Day 7

DESOLATION SOUND, BC, CANADA

Desolation Sound was inhabited by tribes of the K'ómoks prior to the arrival of Europeans and falls within the traditional territories of the Klahoose First Nation, Tla'amin Nation, and Hamalco First Nations. In the summer of 1792, two expeditions led by Captains George Vancouver, Dionisio Alcalá Galiano and Cayetano Valdés y Flores arrived and cooperated in mapping the sound. Vancouver named it Desolation Sound, cryptically claiming that "there was not a single prospect that was pleasing to the eye". A perfect environment for kayaking and Zodiac exploration, these calm waters offer spectacular vistas as you explore the islands and coves that make up this unique shoreline.

Day 8

SUNSHINE COAST, BC, CANADA

Pender Harbor is a delight when seen from the water. This vibrant heart of the Sunshine Coast is perfect for diving and exploring by kayak and Zodiac

Day 9

NANAIMO, BC

Nanaimo offers one of the longest shorelines in Canada, and a forested mountain backdrop frames every view. Go from wilderness to city center is a few minutes as you explore.

Day 10

GULF ISLANDS, GANGES, BC, CANADA

The Gulf Islands are among the world's most beautiful cruising sites, with each turn presenting a breathtaking panorama. Ganges Harbor, the islands' center, invites you to shop, taste, and explore.

Day 11

VICTORIA, BC, CANADA

This quaint coastal city exudes a British charm that belies its status as a seat of government. A visit to acclaimed Butchart Gardens is a botanical and sensual delight. Make time for tea at the legendary Empress Hotel.

DAY 12

SEATTLE, WA, USA – DISEMBARK

The urban center of the Pacific Northwest is the perfect endpoint to your journey. Explore world-famous Pike Place Market, visit the iconic Space Needle, and have a cup of the city's celebrated coffee before you say farewell. Stay and explore more of the Pacific Northwest.
OCEAN VICTORY
Ocean Victory Cruise Ship
Experience an innovative design that brings a new level of responsible travel. Built for exploration in earth's most fragile places, Ocean Victory uses the cleanest available fuel, offers unique access to wilderness waters, and provides an unparalleled platform for discovery.
Observation Lounge 
Wrap around windows at the very front of the ship make the perfect place for relaxing. This will easily become your favorite place on the ship as you laze in 360-degree swivel chairs to capture the view from every angle. Always with your favorite snacks and beverages at hand.
Pool Deck
Glass end walls make for unprecedented views while you enjoy a wilderness swim on deck. This refreshing pool is one of a kind. Swim from end to end as though into infinity as the wonderment of the wilderness surrounds you. Then relax in one of the two roomy hot tubs.
Polar Spa
Indulge in a specialty massage, a rejuvenating facial, a pampering mani-pedi. Come in from your day of exploring and treat yourself to a makeover – new haircut, new make-up? Or take care of those muscles you may have used a bit more than usual. An expert staff is here to take care of you.
Expedition Lecture Room
Great sightlines, wonderful acoustics, and beautiful outdoor views make a perfect combination. The very heart of your journey will beat here, as experts in history, culture, marine life, natural environment, marine biology, and many other fields share with you their insights.
Panorama Specialty Restaurant
On this comfortable deck, tuck into some vacation reading, look ahead on where you're headed or reminisce on where you've been. Sink into a comfy sofa or chair, and appreciate the breeze as we sail along, or gather near the bow to watch the spectacle of passing through a lock.
Staterooms, all staterooms include:
* Private bath with spacious shower and beautiful finishes
* Complimentary designer amenities
* Large storage spaces for luggage, clothing, and personal items
* Hair dryer
* Mini refrigerator
* Bathrobes and slippers
* In room safe
* Onboard laundry service
* Your personal water bottle for use at refillable stations throughout the ship
* Panoramic view
Premium Suite –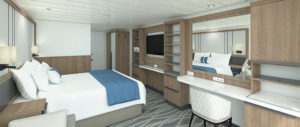 Premium Suite with Private Balcony
Category A – Deluxe Suite with Private Balcony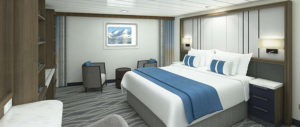 Category B – Private Balcony Suite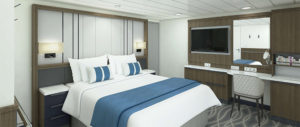 Category BB – Private Balcony Suite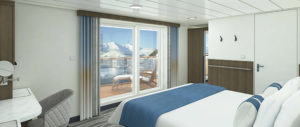 Category C – Deluxe Stateroom with Private Balcony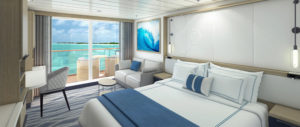 Category D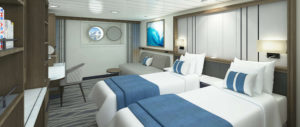 – Stateroom with porthole windows
Category E-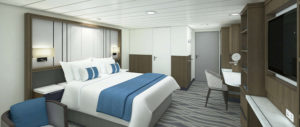 Stateroom with Private Balcony
Category F –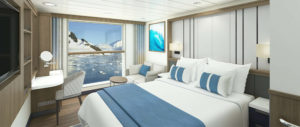 Stateroom with French Balcony