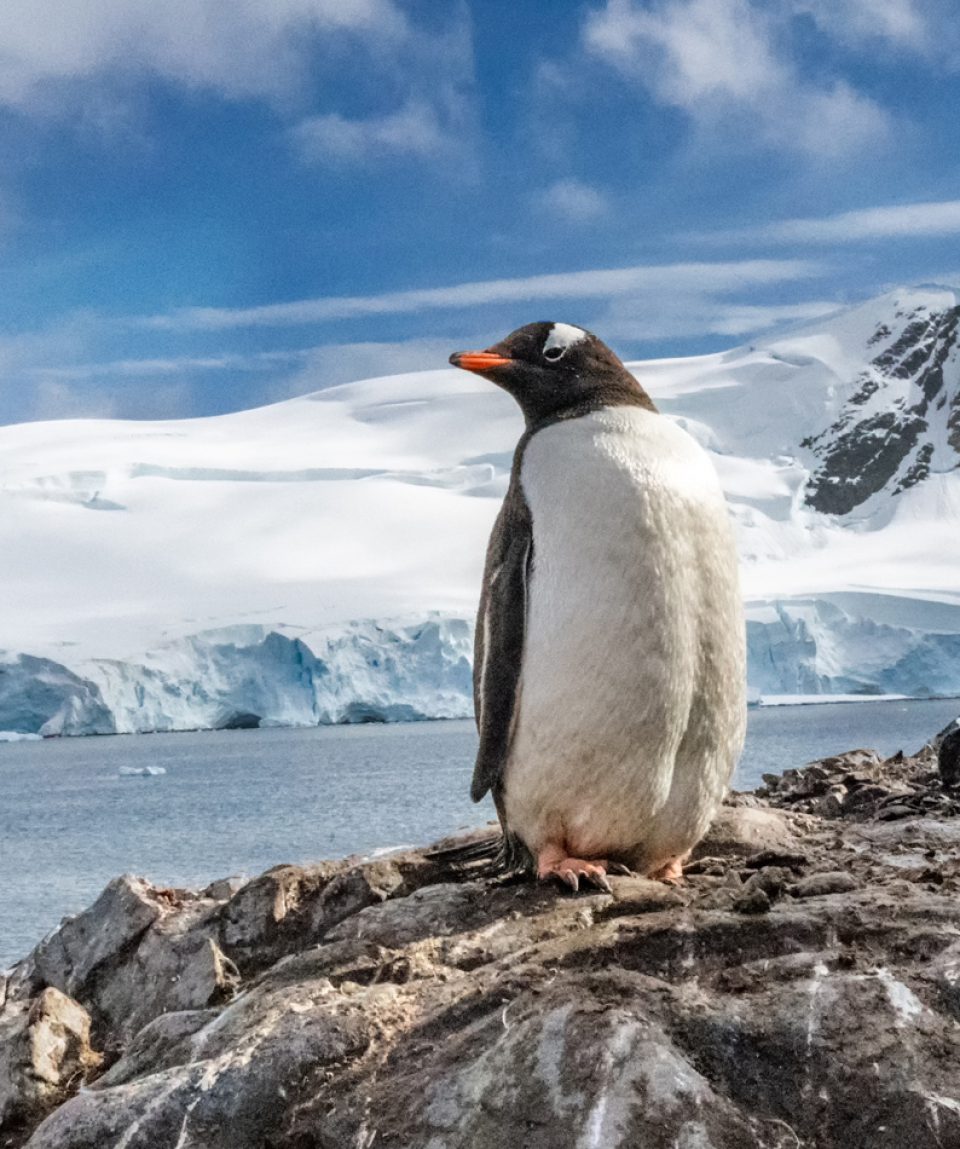 Classic Antarctica – Silver Cloud
DATES – 2021:   December 09
2022:  January 03 | January 13
DURATION:  13 DAYS 
EMBARK: USHUAIA, ARGENTINA
DISEMBARK: USHUAIA, ARGENTINA
SHIP:  SILVER CLOUD
FROM: $13,530 
All Inclusive – Pre-Tour in Buenos Aires: Free Air to Buenos Aires and Ushuaia; Gratuities; Open Bar.

All about the Classic Antarctica – Silver Cloud.
Exploring the Earth's frozen final frontier may be a pipe dream for some, but not for you! Be one of the few people to step foot on Antarctica, and join the realms to the truly travelled. Sail past sculpted icebergs and calving glaciers, be on the lookout for the region's captivating wildlife that includes penguins, seals, whales and oh so many seabirds. Above all, grasp the opportunity to learn about this, most mysterious, of continents.
Voyage Highlights:   
Antarctic Sound, Antarctica –
We will travel to see tabular icebergs in the Antarctic Sound. The Sound has its name based on Nordenskjold's ship Antarctic and several sites relate to the Swedish expedition. Here usually massive continental icebergs rise out of the water like giant white-blue blocks. Depending on ice conditions Zodiac cruises and a landing might be possible.
Antarctic Peninsula, Antarctica –
We will explore the Antarctic Peninsula from the Silver Cloud, on Zodiac cruises and via landings to see seals and penguin colonies. This promontory of land is the furthest-north extension of mainland Antarctica. Your excursions will be expertly planned by your Captain and Expedition Leader according to weather and ice conditions.
South Shetland Islands, Antarctica –
Several landing sites and remains of whaling stations can be found in the South Shetland Islands. This grouping of islands is 75 miles north of the Antarctic Peninsula and holds sixteen research stations run by Argentina, the US, Chile, Spain and several other countries. Sites for your activities will be selected based on weather and ice conditions.
Drake Passage – 
We will pass twice through the Drake Passage, a 600-mile wide expanse that marks the convergence of the Atlantic, Pacific and Southern Oceans. This is an excellent area for whale-watching and pelagic birding. Look for albatrosses and Southern Giant Petrels, as well as Cape Petrels, prions and storm-petrels.
Kayaking in Antarctica –
Silver Cloud offers the opportunity to kayak in a small group under the guidance of certified kayak instructors. These special excursions are a chance to appreciate the wilds of Antarctica in peaceful silence.
Wildlife Watch List:    
Gentoo, Chinstrap and Adelie Penguins
Antarctic fur seals, Southern elephant seals, Weddell seals, crabeater seals and leopard seals Humpback whales, minke whales, sei whales, fin whales, pilot whales, orcas
Blue-eyed Shag, Black-browed Albatross, Wandering Albatross, Southern Giant Petrel, Cape Petrel, Wilson's Storm Petrel, Snowy Sheathbill, Antarctic Terns, Arctic Terns
Expedition highlights and wildlife listed here are possible experiences only and cannot be guaranteed. Your Expedition Leader and Captain will work together to ensure opportunities for adventure and exploration are the best possible, taking into account the prevailing weather, wildlife activity and ice conditions. Expedition Team members scheduled for this voyage are subject to change or cancellation.

The tour package inclusions and exclusions at a glance
What is included in this tour?
Items that are included in the cost of tour price.
Included two nights pre-cruise hotel in Buenos Aires
City tour with lunch
Deluxe Tango Dinner Show
Included transfers (between airport/hotel and ship)
Included flight to/ from Ushuaia
Included luggage handling
Highly qualified expedition team with experts in their field (marine biologists, ornithologists, historians and more)
Excursions and activities, including explorations by Zodiac®
Complimentary expedition gear: backpack and water bottle on every voyage, Haglöfs parka for polar expeditions
Personalised service with a butler for all suites and the highest crew to guest ratio in the industry
Fine dining even in the most remote places of the planet
Comfortable amenities with the largest expedition suites at sea
Inclusive room-service, select wines, spirits and soft drinks throughout the ship
Free WIFI throughout the ship
Onboard Gratuities
Exclusive partnership with The Royal Geographical Society
Whats not included in this tour.
Items that are not included in the cost of tour price.
Travel and emergency evacuation insurance
Items of personal nature – Onboard saolon and spa, gift shop
Visa and vaccination if required
Day 1

Arrive Buenos Aires, Argentina

You will be met and transferred to your deluxe hotel. Remainder of the day is free.

Day 2

Buenos Aires - Tour

Enjoy a full day tour of Buenos Aires, "Paris of South America", arranged exclusively for Explor Cruises' guests. Visit the unique neighborhoods of San Telmo, Recoleta, La Boca, Puerto Madero and Palermo. Lunch is included. This evening, you will be taken to a Dinner & Tango Show at Tango Porteño, Includes round trip transfers and a tango lesson of 1hr before the dinner. Return to your hotel late.

Day 3

Flight to Ushuaia – Embarkation

Transfer from your hotel to the airport for your included flight to Ushuaia. Meet and transfer to ship. Capital of Argentina's Tierra del Fuego province, Ushuaia lies in a bay opening into the Beagle Channel, at the country's southernmost tip.

Embark your ship, settle in and attend a mandatory safety drill before leaving port. During the afternoon you will be introduced to some of the important crew members and your Expedition Team. At sail-away bid farewell to Tierra del Fuego, the 'Land at the End of the World'.

Days 4-5

At Sea - Drake Passage

The Drake Passage has a notorious reputation for its turbulent seas due to the westerly winds and the funneling effect of the passage. The Antarctic Convergence, a natural boundary where cold polar water flows northward and warmer equatorial water moves southward, is within the Drake Passage. When these two currents meet, nutrients are pushed to the surface, often attracting a multitude of seabirds and whales. Spend some time on deck watching the horizon and the variety of seabirds that glide in the air currents of our ship's wake such as the Black-browed Albatross, Sooty Shearwaters and White-chinned Petrels. Have your camera ready to capture the magical color of a late night sunset.

Attend wildlife, geography and history discussions hosted by our expert naturalists and guest lecturers that will prepare you for the exciting adventures that lie ahead. When available, visit the Bridge and meet our Captain and officers; information will be posted in the "Chronicle", our daily onboard newsletter.

Day 6

Antarctic Sound

The Antarctic Sound is a stretch of water named after the first ship to have passed through this body of water from the Bransfield Strait to the Weddell Sea in 1902. The Antarctic eventually sank and crew and scientists had to spend quite some time in this area before they were could be rescued. Sites that have to do with this story – like Hope Bay or Paulet Island – are sometimes visited. At Paulet, Hope Bay and Brown Bluff Adelie and Gentoo Penguins breed, as do Kelp Gulls and Cape Petrels, Snow Petrels and Skuas. The Sound's main attractions are the spectacular tabular icebergs that come from the Larsen Ice Shelf further south.

Days 7-9

Antarctic Peninsula

Remote and otherworldly, Antarctica is irresistible for its spectacular iceberg sculptures and calving glaciers, and for the possibility of up-close encounters with marine mammals and the iconic penguins. The Antarctic Peninsula – the main peninsula closest to South America – has a human history of almost 200 years, with explorers, sealers, whalers, and scientists who have come to work, and eventually intrepid visitors coming to enjoy this pristine and remote wilderness. It is a region of protected bays, unscaled snow-capped mountains, vast glaciers and a few places where whalers or scientists have worked.

Day 10

ANTARCTICA SOUTH SHETLAND ISLANDS

Some 770 kilometers (478 miles) south of Cape Horn, the South Shetland Islands are usually the first land seen in Antarctica. Separated from the Antarctic Peninsula by the Bransfield Strait, nine major islands make up the group. The region was the first to be exploited by sealers in the early 19th century, and because of its proximity to South America, it still is the most visited by scientists and tourists. Chinstrap, Adelie, Gentoo and Macaroni Penguins all breed here. In addition, because it is the warmest part of the continent, large moss beds as well as orange, black, grey and green lichens grow –even hair grass and pearlwort manage to survive.

Days 11-12

At Sea - Drake Passage

Navigating our return through the Drake Passage, we will watch for seabirds and wildlife we may have missed on the first leg. Take this opportunity to attend additional presentations offered by the Expedition Team lecturers and to swap photos with new friends as we travel towards Ushuaia.

Day 13

Ushuaia, Argentina - Disembark

After breakfast, disembark and transfer to airport or hotel. Stay longer to explore Patagonia, Torres del Paines, El Calafate and Santiago; or the vineyards of Chile and Argentina – so much to see and experience.
Silver Cloud
After extensive refurbishment, Silver Cloud is the most spacious and comfortable ice class vessel in expedition cruising. Her large suites, her destination itineraries and her unparalleled service make her truly special. Her four dining options will tantalize your taste buds and as 80% of her suites include a veranda, watching a breaching whale or a few cavorting penguins has never been so personal. Broad sweeping decks with multiple open spaces and a swimming pool complete what is surely the most distinctive expedition ship sailing today. A limited number of guests in polar waters, mean that Silver Cloud has the highest space to guest and crew to guest ratios in expedition cruising. With her 16 zodiacs, 10 kayaks, possibilities are almost limitless with ship-wide simultaneous explorations. Finally, a team of up to 22 passionate and dedicated expedition experts are always at hand to ensure your voyage is enhanced every step of the way.
GUESTS: 254
CREW: 223
LENGTH: 514.14 Feet / 156.7 Meters
SUITES
Silversea's oceanview suites are some of the most spacious in cruising, and all include the services of a butler. Select your suite and Request a Quote – guests who book early are rewarded with the best fares and ability to select their desired suite.
Owner's Suite
This stylish apartment offers the superlative in levels of space, comfort and service on board. A perfect mix of expedition experience with luxury lifestyle. Available as a one-bedroom configuration or as two bedroom by adjoining with a Vista Suite.
Grand Suite
Expertly designed and exquisitely appointed. The ideal space for sharing stories with fellow explorers and new friends. With enough space to roam both in and outside, this suite is perfect relaxing and recounting the highlights of your day. Available as a one-bedroom configuration or as two-bedroom by adjoining with a Veranda Suite.
Royal Suite
Stately. Commanding and majestic. Perfect for relaxing after a days' exploring and looking through your photos. With lectures being streamed live to your room, this is the pinnacle of good living at sea. Available as a one-bedroom configuration or as two-bedroom by adjoining with a Veranda Suite.
Silver Suite
Stylish and sophisticated with larger verandas, excellent for taking pictures and bird-watching. Situated midship, this suite is perfection in design and comfortable living. A huge walk in wardrobe, a beautiful marbled bathroom and a spacious living area completes the picture. Silver Suites accommodate three guests.
Medallion Suite
With a room configuration that favors watching the sun rise from the comfort of your bed and losing yourself in the mesmerizing seascapes, this suite is the perfect answer to adventure cruising. A large walk-in wardrobe, and an expansive living make the Medallion Suite a your home away from home on the high seas. Medallion Suites accommodate three guests.
Deluxe Veranda Suite
A Silversea signature, with a preferred central location, the Veranda Suite is spacious and welcoming.Floor-to-ceiling glass doors open onto a furnished private teak veranda from where you can contemplate anything from the midnight sun to an antarctic sunrise. The Deluxe Veranda Suite offers preferred central location with identical accommodation to a Veranda Suite.
Veranda Suite
A Silversea signature, the Veranda Suite is spacious and welcoming. Floor-to-ceiling glass doors open onto a furnished private teak veranda from where you can contemplate anything from the midnight sun to an antarctic sunrise. Some Veranda Suites accommodate three guests (Suites going from 505 to 510, and from 605 to 610).
Vista Suite
Your home away from home while you embrace the intrepid explorer within. The suite's seating area has plenty of room to relax while you go over your notes, ready for the next adventure. Large picture windows frame panoramic ocean views, ideal for appraising the local wildlife.
RESTAURANTS
Discover our collection of onboard venues where you'll enjoy spending time with like-minded travellers and of course, our personalized all-inclusive service.