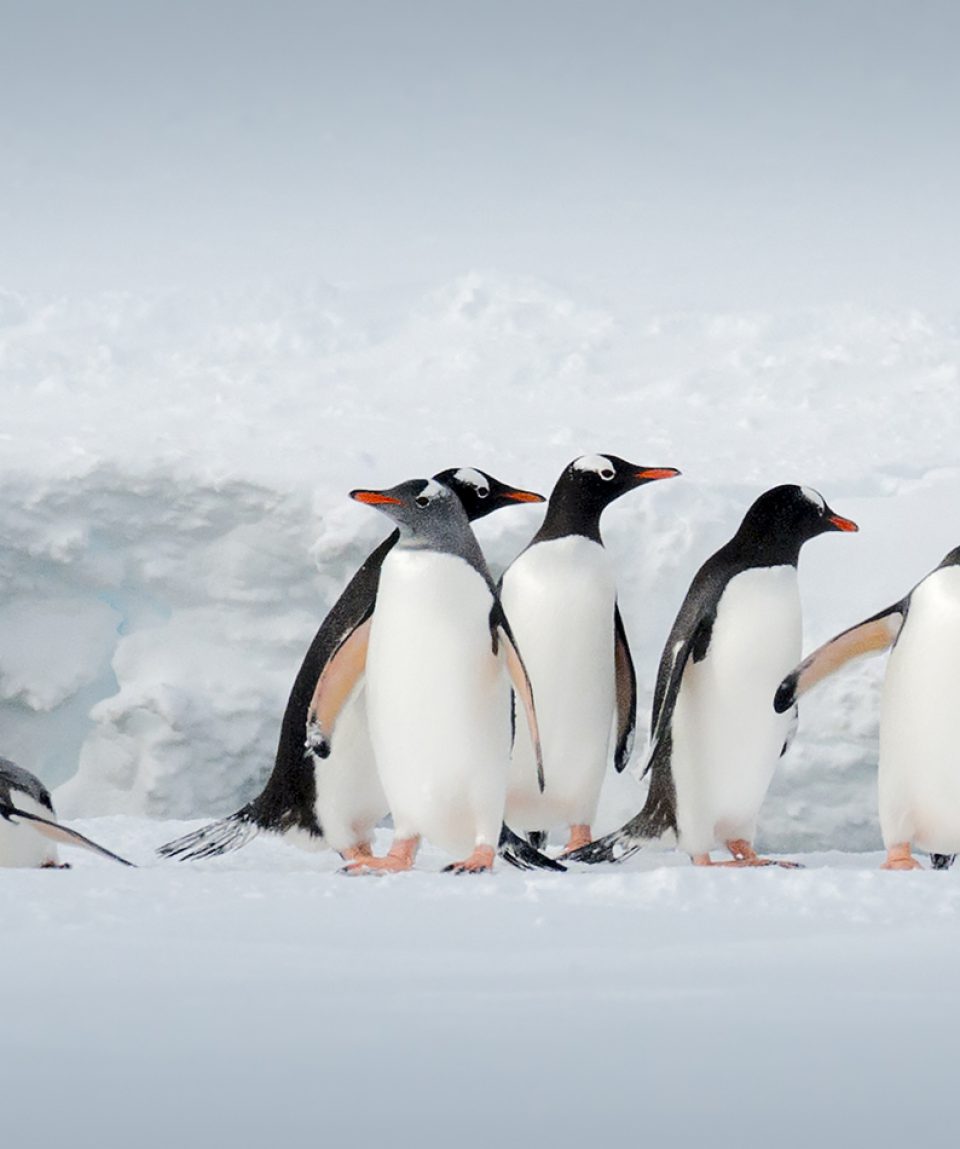 ANTARCTIC PENINSULA – Land of Penguins & Icebergs
DATES: 2023 – Nov 12, Nov 21 | Dec 10, Dec 19
DURATION – 11 days
EMBARKATION – Ushuaia (Argentina)
DISEMBARKATION – Ushuaia (Argentina)
SHIP – M/V Sea Spirit
From – $9,296 (Double) – After 25% Savings – Book by Mar 15, 2023
All about the ANTARCTIC PENINSULA – Land of Penguins & Icebergs.
The Antarctic Peninsula is a pristine polar wilderness featuring abundant wildlife and spectacular scenery.
This classic voyage to Antarctica departs from Ushuaia, Argentina. The air gets colder and daylight grows longer as we head south across the infamous Drake Passage, accompanied by albatross. Our first sighting of the White Continent is the South Shetland Islands, historically significant and rich with iconic Antarctic wildlife. Our time in the Antarctic Peninsula region focuses on the Gerlache Strait area, where towering mountains, immense glaciers, and blue icebergs create a picture-perfect setting for incredible penguin and marine mammal encounters. This is an authentic expedition in a wilderness of epic proportions.
Highlights
ABUNDANT ANTARCTIC WILDLIFE
Antarctica is famous for its penguins. In the South Shetland Islands and Antarctic Peninsula you can go ashore at sites where gentoo, chinstrap, and adélie penguins come together in boisterous nesting colonies. Meeting with an inquisitive penguin chick is an experience not to be forgotten.
The waters of Antarctica are also home to impressive numbers of marine mammals. Pinnipeds such as weddell, crabeater, and leopard seals are commonly seen reposing on ice floes or hauled-out on shore. Humpback and killer whales can also be spotted feeding in bountiful seas.
DRAMATIC POLAR SCENERY
The scenery in Antarctica is unique in the world. Tall, rugged, gleaming white mountains—covered on all but their sheerest faces by innumerable glaciers and permanent snow—rise from deep blue waters to form idyllic bays and scenic passages such as the famous Lemaire Channel. Afloat everywhere in these protected waterways are fragments of Antarctica's frozen surface. From billowy blankets of brash ice crackling in the wake of our Zodiacs to gargantuan tabular icebergs that dwarf our ship, ice is a dramatic and inescapable feature of any Antarctic tableau.
TRAVEL WITH EXPERTS
Our Antarctica voyages each feature experienced teams of expedition staff and lecturers, naturalists, scientists, and leaders who are intimately familiar with Antarctica.

The tour package inclusions and exclusions at a glance
What is included in this tour?
Items that are included in the cost of tour price.
Pre-voyage hotel night in Ushuaia;
Group transfers from the airport to the hotel in Ushuaia;
Group transfer to the ship on day of embarkation;
Group transfer to airport or central location upon disembarkation in Ushuaia;
All scheduled landings and excursions;
All lectures and briefings onboard;
All meals served aboard;
Coffee/tea/cocoa/espresso 24 hours daily;
Welcome drink and farewell dinner onboard;
Rubber boots for shore landings for the time of the cruise;
Branded Poseidon Expeditions parka;
WIFI
All port fees;
Pre-departure materials;
Digital Voyage Log.
Whats not included in this tour.
Items that are not included in the cost of tour price.
Airfare
Visa and passport fees (if applicable);
Soft drinks and alcoholic beverages other than those for special events and celebrations;
Personal expenses such as laundry;
Fuel surcharge may be applied for all bookings;
Travel and Emergency Evacuation Insurance to a minimum benefit of USD 200,000;
Staff gratuities;
Day 1

Arrive Buenos Aires

Arrival to Buenos Aires Airport. Transfer to hotel. Accommodation.

Day 2

Buenos Aires Tour

Breakfast in the hotel. Full day private city tour.

In the morning, visit of South Area with Tortoni snack. Starting from Plaza de Mayo square, Metropolitan Cathedral, the Pink House and the Cabildo. We will go on through De Mayo Avenue, a splendid boulevard with fascinating architectural heritage, and we will stop to enjoy a quick snack in the emblematic Café Tortoni, open to the public since 1858. Our journey continues southwards, walking along old-stoned streets of San Telmo: "Tango" neighborhood. Following the same direction we arrive to La Boca to visit Caminito street. Finally, on our return, we will pass through the most modern and one of the more exclusive areas of the city, Puerto Madero, where we will have lunch.

After lunch, we continue with the North Area. Neighborhoods "north" are characterized by their European appearance and have been since the late nineteenth century, the residential areas of the city's upper class. This tour goes back to the origins of the "Paris of South America", emphasizing the lifestyle of the old families during the belle époque Buenos Aires. The history returns to Retiro, San Martín Square remembers us to the epic of our big Argentinean hero; meanwhile the neighborhood is scenery of buses, cars and people coming and going to the porteño downtown. Then we visit Recoleta´s neighborhood, with its French style buildings, the impressive Cemetery, exclusive and fancy clothe shops, museums, art galleries and beautiful wooded parks which come out onto Palermo. Palermo covers a large swath of residential Buenos Aires, including Palermo Viejo, Palermo Alto, and Palermo Chico as well as Palermo Park. Palermo Viejo is a large area that can be further subdivided into Palermo Soho and Palermo Hollywood. Palermo Hollywood is home to the trendiest restaurants in Buenos Aires. Return to the hotel.

In the evening, Dinner & Tango Show at Tango Porteño, Vip area: A three-course set dinner with drinks included (water, soft drink, wine) and an amazing and entertaining Tango show. Includes round trip transfers and a tango lesson of 1-hr before the dinner (is optional to do It or not). (B, L, D)

Day 3

Flight from Buenos Aires to Ushuaia, Argentina.

Transfer from your hotel to the city airport for your included flight to Ushuaia. Upon arrival, transfer to your hotel. The small city of Ushuaia combines everything to be a perfect starting point for Antarctic cruises. It locates at the southern tip of South America Continent and is regarded as the world's southernmost city. Being the capital of Tierra del Fuego archipelago Ushuaia boasts the southernmost Tierra del Fuego National Park and beautiful landscapes of Beagle Bay and Andes mountains. Not less important (and even more for someone) the local restaurants offer super delicious king crab, cooked to dozen different recipes.

Day 4

Embarkation

Arriving at the ship in the afternoon, you will be greeted by our Expedition Team and ship's officers at a safety and orientation briefing followed by the Captain's welcome dinner. After dinner, relax and take in the mountainous scenery on our early evening sail down the Beagle Channel past Magellanic Penguin, Rock Cormorant, and Sea Lion colonies. (B, D)

Day 5-6

Crossing the Drake Passage

Among the wildlife spotting opportunities as we sail south are the Albatrosses, Prions, and Petrels that frequently follow the ship. Our Expedition Team will be out on deck as well, looking for the Whales and Dolphins that may also be seen in the area. Our experts will hold informative and entertaining presentations on the wildlife, history, and geology of Antarctica. Helpful briefings on environmental regulations and expedition safety will also be held in the comfortable lounge. The length of our journey depends on sea conditions but we should approach the South Shetland Islands of the Antarctic Peninsula in the evening of Day 6.

Days 7-8

South Shetland Islands and Antarctic Peninsula

The Antarctic Peninsula and nearby islands provide exceptional opportunities to discover the unique wildlife and awesome landscapes. Depending on weather and ice conditions, the captain and expedition team will direct the Sea Spirit to a variety of secluded bays and harbors to optimize Zodiac landings and wildlife viewing. While we have a plan, flexibility is the key to successful expedition cruising. With the help of our expedition team, look for the four penguin, six seal and several whale species on your Antarctic checklist. We'll also find a time for our most adventurous travelers to take a polar plunge, perhaps in Neko Harbor or the relatively warm waters of volcanic Deception Island.

Day 9-11

Antarctic Continent

As we head south along the Antarctic Peninsula, you'ill understand why the imposing, snow-covered Lemaire Channel is called "Kodak Alley." We'll also try to visit a research station during the voyage, although the work schedules of the scientists may not always permit this. At the Ukrainian base of Academician Vernadskiy, you might want to sample the throat-burning gorilka, or Ukrainian pepper vodka, distilled on location. A Zodiac cruise of Paradise Bay, with its many glaciers, offers an experience like no other on the globe. Cruise by massive icebergs, with cracks and crevices reflecting an amazing spectrum of blue colors. Conditions permitting, we'll set foot on the actual Antarctic Continent at Hope Bay or perhaps another site.

Day 12-13

Drake Passage

As the Sea Spirit heads back to Ushuaia, there are some final opportunities to ask questions of our Antarctic experts, to share photos and experiences with newfound friends, and to enjoy our festive farewell dinner. Wave goodbye to the birds and whales, until you meet again on your next voyage to the White Continent!

Day 14

Ushuaia, disembarkation

Our morning disembarkation in Ushuaia is followed by group transfer to the airport. Or you may stay at the city center, if you plan a longer stay in Ushuaia.
Sea Spirit
ntroducing the Sea Spirit, formerly the Spirit of Oceanus – Sailing in grand style with all the amenities of a luxury hotel.
Providing spacious suites for accommodation of 116 passengers the Sea Spirit at the same time features maneuverability and friendly atmosphere of small ships. The vessel has an ice-strengthened hull, a fleet of Zodiacs, and a set of retractable fin stabilizers for smoother sailing.
Explore the Polar Regions in style and comfort aboard the all-suite Sea Spirit. Providing spacious suites and social areas for 116 guests the Sea Spirit at the same time features maneuverability and friendly atmosphere of small ships.
Public areas include: Reception, Restaurant, Bar, Outdoor Bistro, Club Lounge, Library, Presentation Lounge, Infirmary, Gym, Bridge.
We have open Bridge policy. Talk to the Captain and officers. Watch landscapes from this special angle of view. Fix your location at a map of your expedition.
Fast Facts
Dare Launched/Rebuilt: 1992/2006
Length: 297 ft
Beam: 50 ft
Draft: 13.5 ft
Tonnage: 4954 t
Cruise Speed: 12 knots
Total Staff: 72
Passenger Capacity: 116
Registry: Bahamas
Onboard Amenities
Restaurant
The Restaurant on board the Sea Spirit offers open-seating dining, which means there are no assigned tables. Contemporary, international cuisine is created by our talented chefs.
Bar
After a day of explorations passengers may relax at a Bar staffed by a professional bartender. With a wide variety of alcoholic and non-alcoholic drinks and engaging conversation, the bar on board this small luxury ship welcomes guests to mix and mingle.
Presentation Lounge
The Presentation Lounge with state-of-the-art equipment is where all lectures, briefings and social gatherings take place. Attend informative lectures, recaps and briefings, and enjoy views outside.
Club Lounge
Club Lounge provides great opportunities for socializing and observing fantastic landscapes passing by. This comfortable seating area also offers a 24-hour self-service coffee and tea bar.
Library
The Library is a quiet cozy place for reading and relaxation. It has an extensive selection of polar books and DVDs, magazines, reference materials and newspapers.
Gym
Well-equipped Gym allows travelers not to break away from regular sports for the time of a trip. The Gym is open daily and offers stationary bikes, several treadmills, and some multi-functional training machines.
Reception
Should you have a question or require any service be sure to visit the Reception area. Our experts can provide invaluable information to help you get the most out of your cruise.