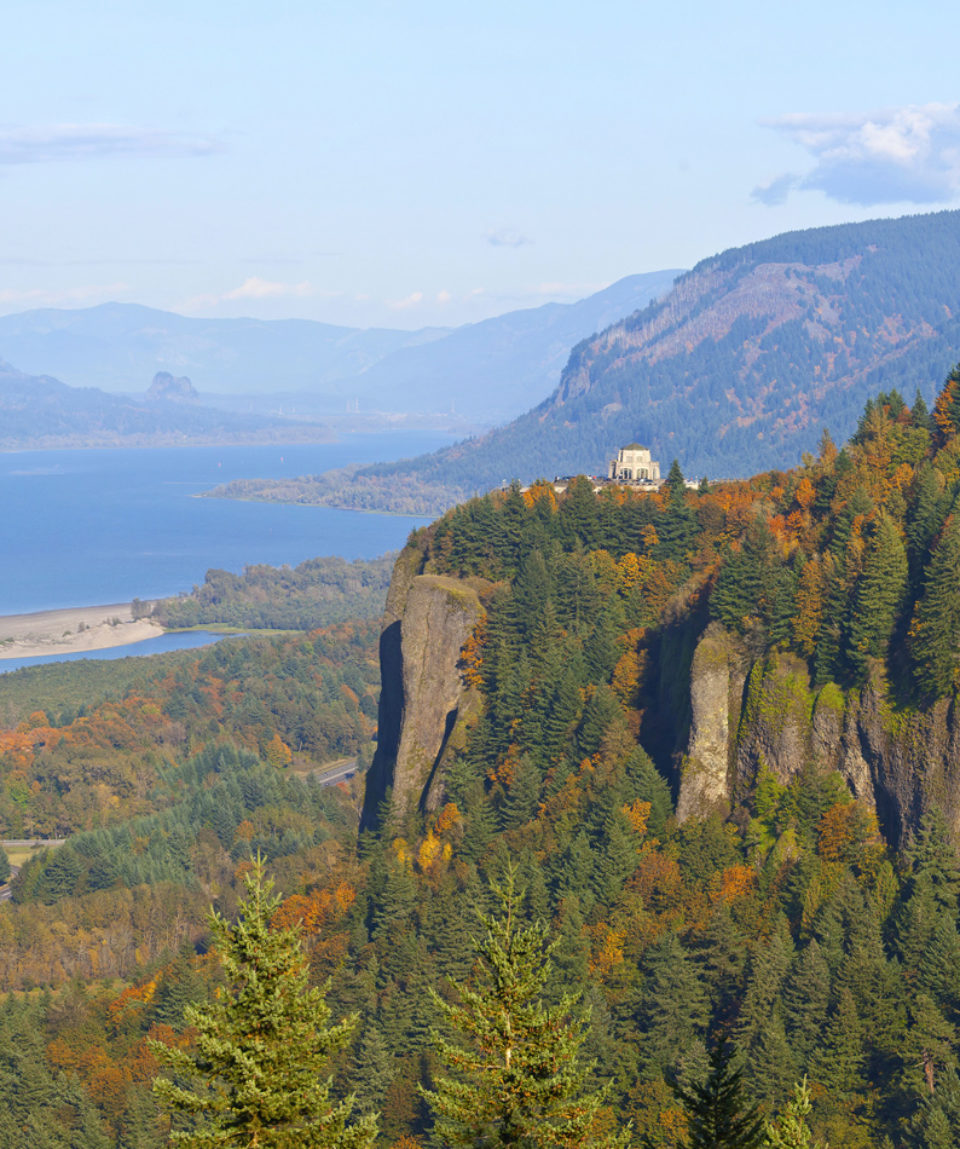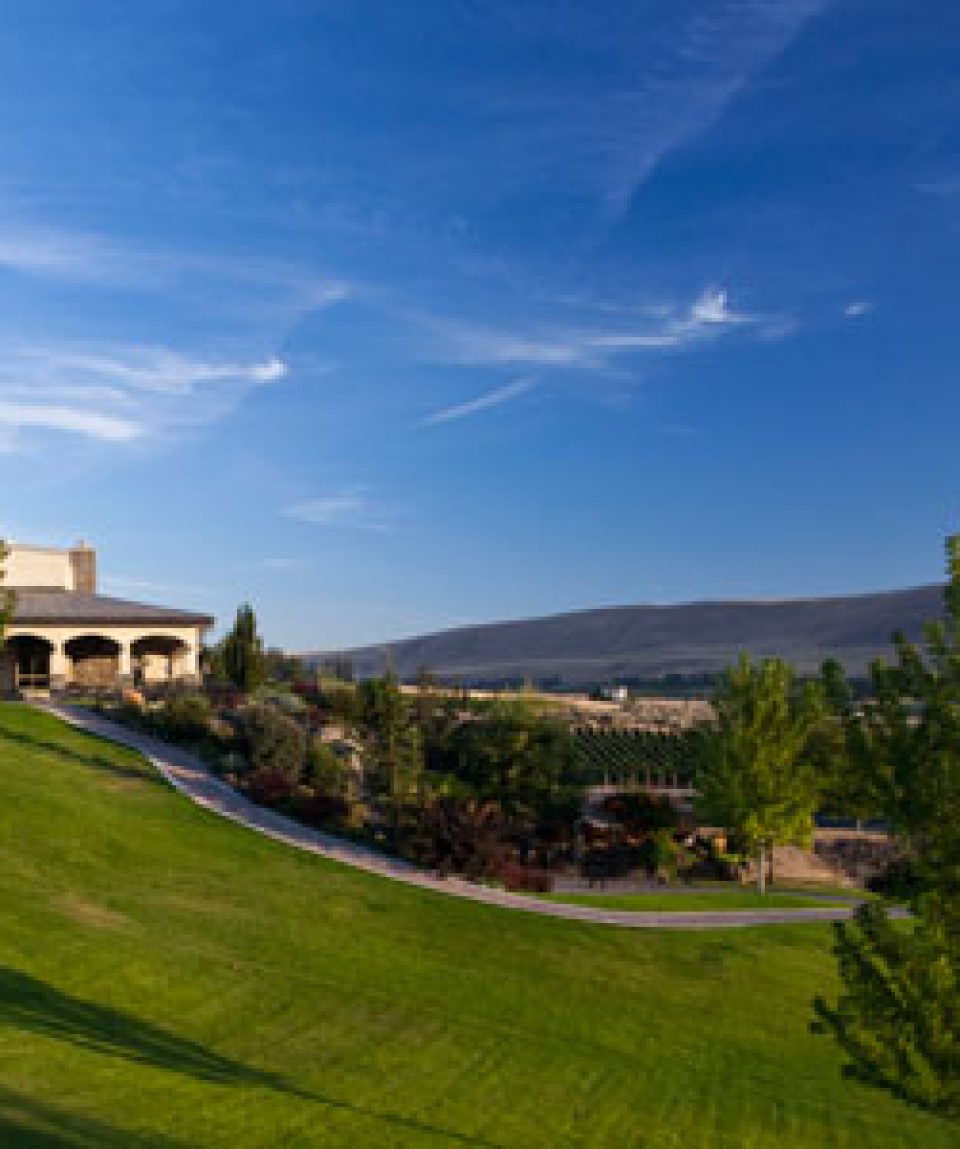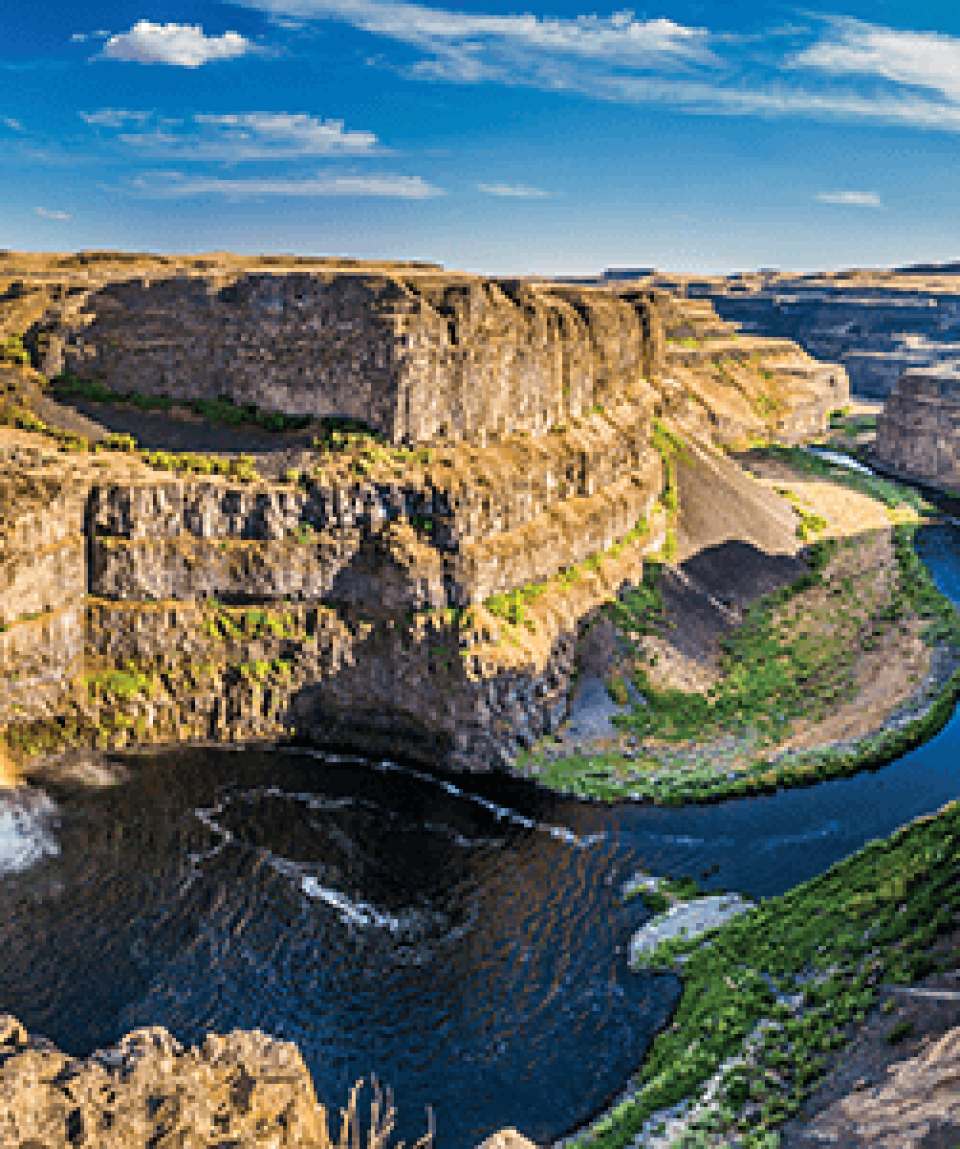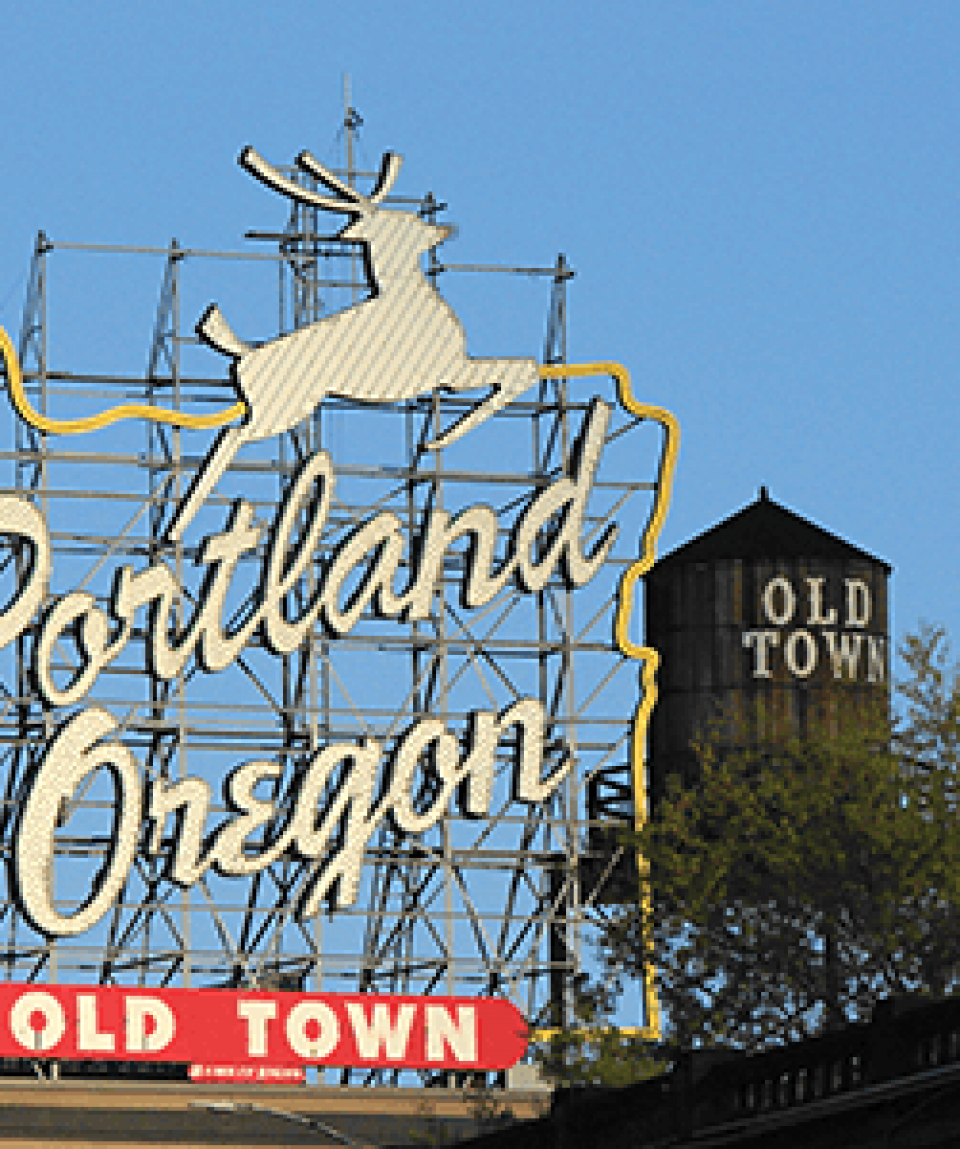 COLUMBIA & SNAKE RIVERS CRUISE IN THE WAKE OF LEWIS & CLARK
DATES: EVERY SUNDAY
2022 – MAR 3 – OCT 23
2023 – MAR 19 – NOV 19
DURATION: 9 DAYS/8 NIGHTS
EMBARK: VANCOUVER, WA
DISEMBARK: CLARKSTON, WA
Alternate Sundays are reverse itinerary
SHIP: AMERICAN EMPRESS
FROM: $3,199
Including Port Charges and Departure Airport Transfer

All about the COLUMBIA & SNAKE RIVERS CRUISE IN THE WAKE OF LEWIS & CLARK.
Embrace dramatic scenery and relive the daring exploits of frontiersmen and adventurers aboard a luxury vessel on this Columbia and Snake River cruise. Take time to linger on the decks of our paddle-wheeler as you cruise through the Columbia River Gorge. It is here that history thrives in the parade of a quiet land, uplifted by the rocky cliffs and ripened trees that stretch from the ground below. We invite you to experience the serenity of wilderness in the Pacific Northwest on a cruise aboard the American Empress. The Columbia and Snake Rivers are flowing passageways to rare ventures. Soothing waterways lead to wine country and allow the ever-moving world around you to transform into a vessel of tranquility and peace – ripe for adventuring.
Enjoy the best of the Pacific Northwest aboard our Columbia and Snake river cruises. Choose to cruise from Portland to Spokane, or the reverse for the trip of a lifetime. Embark on a river cruise to see that the natural world is alive here – unlike anywhere else on earth – and through historic sites and locks and dams, it flows. Sea lions sunbathe on buoys as the distant horizon reveals snow-capped mountains between.

The tour package inclusions and exclusions at a glance
What is included in this tour?
Items that are included in the cost of tour price.
Onboard meals
Onboard house spirits, wine, beer, non-alcoholic beverages
Entry fees to parks/preserves/winery
All from-the-vessel activities and equipment

NOTE: Explor Cruises' rates include port charges and departure tour/transfers to Portland/Spokane airports or hotels. ($300).
Whats not included in this tour.
Items that are not included in the cost of tour price.
Air Fare
Pre- or post-cruise services
Premium spirits, beer & wine
Gratuities to crew
Travel Insurance
Day 1

HOTEL STAY IN VANCOUVER, WA

Enjoy your included stay at the pre-cruise hotel. The evening is yours to become acquainted with the city. Our Hospitality Desk will be located in the hotel, and our friendly staff can assist with every- thing from general questions about your upcoming voyage to reserving premium experiences. Both American Queen Steamboat Company and local representatives will be readily available to provide you with dining, entertainment and sightseeing options to maximize your time here.

Day 2

VANCOUVER, WA

A suburb of Portland, Oregon, Vancouver, Washington, has taken on a distinctive identity of its own. Located in an ideal spot among Mount St. Helens, the Columbia River Gorge and the Pacific Coast, Vancouver boasts a newly renovated waterfront and an abundance of activities, scenic landscapes and historic attractions for all to enjoy.

Two Premium shore excursions available.

Day 3

ASTORIA, OR

Astoria is known to be the oldest American settlement west of the Rocky Mountains. There is no doubting the richness of the history grounded in this Columbia River town. For thousands of years, the Clatsop Tribe inhabited the lands. Today, you can climb to the top of the Astoria Column – wrapped in depictions of history – look out over the landscape toward the Pacific Ocean and watch your model wooden airplane glide through the air to its rest be- low. Included Hop-on-Hop-off tour.

Day 4

RIVER CRUISING

Watch small river towns and lush landscapes slowly become lost in the horizon as sunlight plays upon the deck. Take hold of a literary classic, curl up on a plush chair in a cozy corner and relish in the moment of tranquility. Experience the fulfillment that river cruising offers.

Day 5

STEVENSON, WA

Stevenson embraces the adventurist – with hiking trails, hot springs and local wineries, a visitor is sure to find plenty to do. Opportunities for educational enlightenment abound within the Columbia River Gorge Interpretive Center and at Bonneville Dam. Consider a stop downtown to visit restaurants, cafés and small locally owned shops in which reside treasures of the Pacific Northwest. Included Hop-on-Hop- off tour.

Day 6

THE DALLES, OR

At the end of the overland Oregon Trail, The Dalles holds a unique place in history as a jumping-off spot for pioneers, soldiers, gold miners, adventurers, gunslingers, floozies and scallywags. The Dalles, although a part of the Oregon High Desert, features a long growing season and a relatively warm climate that supports the growing of grapes. As a result, the region is home to a wine scene unlike any other in Oregon. Visitors will be pleased to see the rolling hills speckled with vineyards. Included Hop-on-Hop-off tour.

Day 7

RICHLAND, WA

Step off the boat directly into a perfectly polished park, and take a short stroll to downtown shops, eateries and attractions. Incorporated in 1910, Richland remained a small agricultural community until it was acquired by the U.S. Army for the site of the Hanford Engineer Works – used to produce plutonium during World War II and the Cold War. Today, the historic B Reactor and other important historic venues are part of the Manhattan Project National Historic Park. This and many other intriguing locations are offered as part of your experience in Richland. Included Hop-on-Hop-off tour.

Day 8

CLARKSTON, WA

Nestled at the union of the Snake and Clearwater Rivers in southeast Washington, Clarkston is the gateway to North America's deepest gorge – Hells Canyon – on the Snake River. Picturesque vistas, year-round mild climates and a deep history make this scenic inland port a desirable stop. Spend the day enjoying Clarkston, Washington and neighboring Lewiston, Idaho while tracing the legacy of the journey of Meriwether Lewis and William Clark – for whom the cities are named.

Day 9

CLARKSTON, WA - DISEMBARK

As the journey concludes, there are other opportunities for you to take in the town. Enjoy an included transfer to Spokane and tour of city with airport transfer.

NOTE: Explor Cruises' rates include port charges and departure tour/transfers to Portland/Spokane airports or hotels. ($300).
AMERICAN EMPRESS
AMERICAN EMPRESS
Proudly serving as the largest overnight riverboat west of the Mississippi River, the American Empress cruises the Columbia and Snake Rivers delivering a rich sense of history in modern comfort.
We invite you to step aboard this authentic paddle-wheeler and delight in the luxurious modern amenities, gracious service and endless authentic experiences that await you.
Boasting a vast collection of some of the most intricate artifacts and artwork of Native Alaska, Russia, the Gold Rush and the sternwheeler era in and around Portland, Oregon, the corridors of our Columbia and Snake River cruise boat hold nearly as much beauty and intrigue as the dramatic scenery unfolding on the river outside.
All 112 cabins are outside, and 94% have access to private, or public verandas.
The all-inclusive cruise fares offer a one-night pre-cruise hotel stay with FREE ground transfers to the ship, unlimited shore excursions in port and with your comfort in mind, deluxe private motorcoaches to get you there safely, unlimited beverages including extensive wine list, choice spirits, local craft beers and specialty coffees, open bars and lounges throughout each vessel including a smoothie and juice bar every morning, all meals including alternative dining featuring fresh lobster and USDA Prime Beef available every night, 24-hour in-room dining, unlimited WiFi, bicycles and hiking sticks, and live, daily entertainment and enrichment.
DINING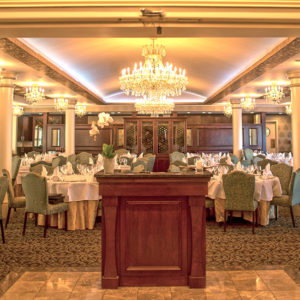 Inspired by America's Pacific Northwest, our menus showcase the varied cultural and culinary influences of the region. Savor each succulent bite, swirl and sip amidst the rich ambiance of the Astoria Dining Room If you are looking for a more casual atmosphere, the River Grill is for you. Meals there feature favorite main dishes, such as roast prime rib alongside irresistible sides – roasted new potatoes, classic mac-and-cheese and fresh salads.
ENTERTAINMENT
Entertainment on the American Empress is one-of-a-kind. Make plans to spend your evenings with nightly river cruise entertainment. Live entertainers will bring down the house in The Show Lounge. Catch world-class entertainment, relive a historical moment or hear a famous river tale originally told by Lewis and Clark. And be sure to bring your dancin' shoes to the the Paddlewheel Lounge to enjoy a late-night live set by our talented musicians.
ENRICHMENT
Learn more about the region in which you are traveling with a number of enrichment programs we offer. See for yourself the highlights of each port that we visit on one of our guided Hop-On Hop-Off shore excursions, or elect to take part in one of our expertly designed premium experiences. And our onboard historians – we like to call them Riverlorians – provide interesting lectures on the history and culture that surrounds you as you roll down the river.
RELAXATION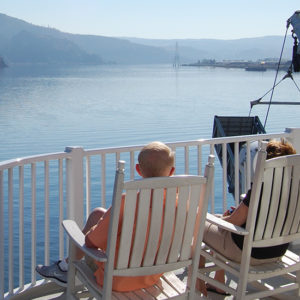 On deck, refreshing spray and sunbeams kiss the skin as the endless upturns of earth disappear in the horizon – a teaser for the spectacles onshore. Private verandas serve as the perfect places to sip coffee and experience the world around, while public outdoor seating invites travelers to engage with one another, creating relationships that last a lifetime.
STATEROOMS
LS – Luxury Suites With Veranda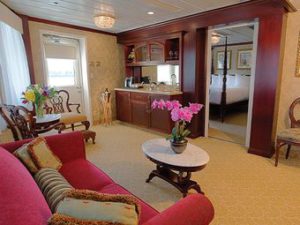 Feel as if you own the American Empress in this expansive suite. You are treated to sweeping river views through large windows facing forward and starboard. Step out onto your private veranda, and scan the riverbanks for wildlife. Converse in your spacious sitting room complete with a large flat-screen TV, premium sound, a cocktail table and a wet bar. As a guest of our Luxury Suite, you will be treated to exclusive suite-level Commodore Services and amenities, as well as River Butler service.
410 sq. ft.
Queen bed or two single beds
Full bathroom with shower
Sitting area with sofa
Private veranda
Interior access
Discovery and Frontier Decks
Commodore Services, including a River Butler
A – Suites With Veranda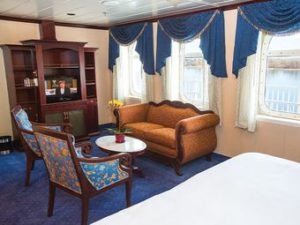 Enjoy a large suite with a comfortable sitting area and premium sound system. Your semi-private veranda provides splendid river views from four stories above the river, and direct access to the wraparound Vista View Deck, perfect for sharing a view and socializing with fellow guests.
310 sq. ft.
Queen bed or two single beds • Full bathroom with shower
Sitting area with sofa
Semi-private veranda
Interior and exterior access
Vista View Deck
B – Superior Veranda Staterooms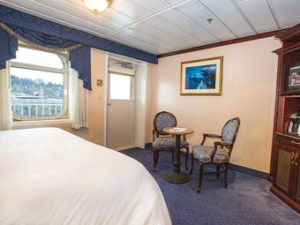 Enjoy your spacious stateroom, with a cozy sitting area or a panoramic view through large forward-facing windows. Your private veranda provides a quiet place to watch the ever-changing scenery.
210-250 sq. ft.
Queen bed or two single beds
Full bathroom with shower
Sitting area
Private veranda
Interior access
Vista View, Discovery and Frontier Decks
Stateroom 403 features a semi-private veranda
C – Deluxe Veranda Staterooms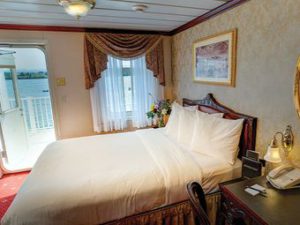 These staterooms are a popular choice for many couples. Share a toast on your private veranda as you glide through the fresh air of the Pacific Northwest.
180 sq. ft.
Queen bed or two single beds
Full bathroom with shower
Private veranda
Interior access
Discovery and Frontier Decks
D – Outside Staterooms With Window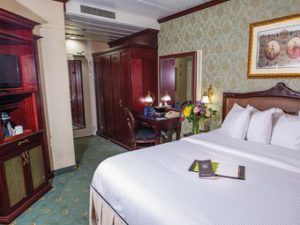 These large staterooms provide a cozy atmosphere and spectacular river views through a generously sized window.
180 sq. ft.
Queen bed or two single beds
Full bathroom with shower
Interior access
Explorer Deck
E – Veranda Staterooms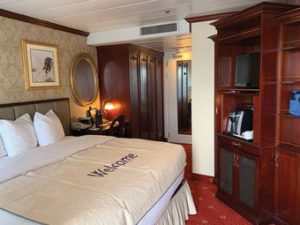 Enjoy a great value with our efficient yet spacious veranda staterooms. Your semi-private veranda provides a quiet place to watch the ever-changing scenery.
150 sq. ft.
Queen bed or two single beds
Full bathroom with shower
Semi-private veranda
Interior and exterior access
Vista View Deck
SO – Single Outside Stateroom With Veranda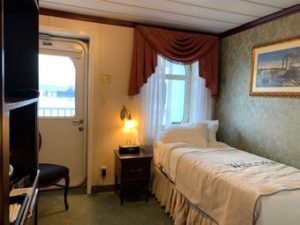 The single outside stateroom is slightly scaled down for the single traveler, but allows you to take full advantage of the splendid features of our Deluxe Veranda Staterooms.
160 sq. ft.
Single bed
Full bathroom with shower
Private veranda
Interior access
Frontier Deck
DECK PLAN