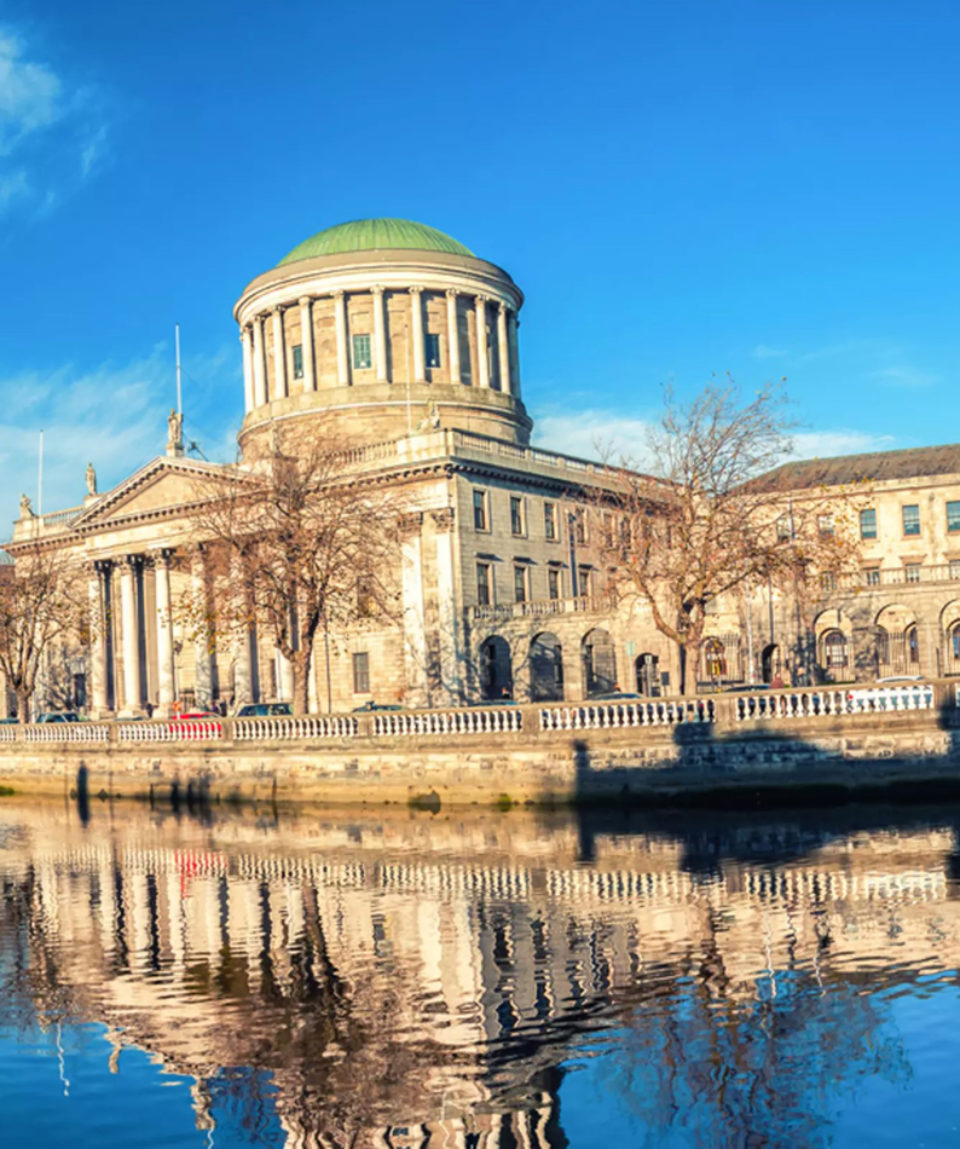 DUBLIN to LISBON
DATE: 2022 – AUG 26
2023 – MAY 25*
DURATION: 13 DAYS/12 NIGHTS
EMBARK: DUBLIN, IRELAND
DISEMBARK: LISBON, PORTUGAL
*Reverse Itinerary
SHIP: Silver Cloud Expedition
 FROM: $7,400 – All inclusive – Free air, pre-cruise hotel, transfers, shore excursions, gratuities, beverages, port charges.

All about the DUBLIN to LISBON.
They may be far apart, and their weather might go from one end of the spectrum to the other, but the similarities between the ports on this itinerary are manifest. Each place not only possesses a rich history but also a great lust for life. Enjoy the UK Scilly Isles' love of nature, the famous French Gastronomy Breton and northern Spain's magnificent architecture before your arrival in Portugal, the country that lives life to the fullest.
Note – This is an Expedition cruise – When travelling in remote regions tide, wind, ice and weather conditions determine the details of our itinerary. While we will do our best to maintain all suggested activities, some of these may be subject to change. Come with an open mind and a great sense of adventure, together we can turn any voyage into a wonderful Expedition.

The tour package inclusions and exclusions at a glance
What is included in this tour?
Items that are included in the cost of tour price.
Free economy air, or reduced rate Business Class from North America
Pre-cruise hotel and transfers
All meals
Beverages, open bar, beer, wine, liquor
Room service
Butler service
All excursions
Expedition leaders and guest speakers
Gratuities to ship crew
Unlimited Free Internet
Whats not included in this tour.
Items that are not included in the cost of tour price.
Pre- and Post-cruise tours
Travel Insurance
Day 1

ARRIVE DUBLIN, IRELAND

NOTE: ONE PRE-CRUISE HOTEL NIGHT IS INCLUDED, WITH TRANSFERS. We are happy to make additional arrangements, including multi-day explorations of Ireland.

Day 2

DUBLIN - EMBARKATION

Atmospheric cobbled streets, with buskers scraping fiddles and characterful pubs inviting passersby inside, is Dublin in a snapshot. A city of irrepressible energy and lust for life, Ireland's capital is as welcoming a place as you'll find. Horse-drawn carriages plod along cobbled centuries-old streets, blending with an easy-going, cosmopolitan outlook. Known for its fun-filled gathering of pubs, any excuse works to enjoy a celebratory toast and chat among good company. Home to perhaps the world's most famous beer – slurp perfect pouring of thick, dark Guinness – cranked out for the city's thirsty punters. Learn more of the humble pint's journey at the Guinness Storehouse. Dublin has come along way since the Vikings established a trading port here, back in the 9th Century. In the time since, the city became the British Empire's defacto second city, and the Georgian imprint still adds oodles of historic character. Learn of 1916's Easter Uprising, when the Irish rebelled and established their independence here, as you visit the infamous, haunting Kilmainham Gaol. The uprising's leaders were tried and executed in these dark confines. Dublin's St. Patrick's Cathedral has immense history below its steep spire, which dates back to 1191. There's rich literary heritage to leaf through too, and the city's streets were rendered vividly in James Joyce's classic Ullyses. The Museum of Literature celebrates the full scope of Dublin's lyrical talents. Trinity College also has a prestigious roll-call of alumni – visit to see the Book of Kells, a beautifully illustrated bible of the medieval era.

Day 3

ISLE OF LUNDY, UNITED KINGDOM

Lundy has a long and colorful history due to its strategic location in the Bristol Channel between Devon and Wales. Residents and landlords included neolithic groups, celts, the Knights Templar, kings and English families. Marisco Castle was built by the English crown in the 13th century and rebuilt during the English civil war. At times, the island was a base for French, Spanish, Basque and English pirates, and corsairs from the Barbary Coast. The latter exported captured English as slaves to Algiers. The island is only about five kilometers (three miles) long but has three lighthouses. The old light proved too tall to be seen in low fog and required cannons to be regularly fired as 'fog alerts'. The newer shorter lighthouses at either end of the island still function. Walking the island is easy and reveals historic features and the unique native Lundy Cabbage. The Lundy Pony has been on the island long enough to evolve into its own breed. Soay Sheep were introduced from the St Kilda isles and Sika Deer from East Asia. Twenty per cent of the island's rabbits are black due to a melanistic strain in their genetics. Lundy is Norse for 'puffin island' and there are small numbers of these birds in summer, along with other seabirds. You may spot Grey Seals hauled out onshore in the north of the island or spy their heads in the sea. The value of the island's clean marine environment was recognized when the United Kingdom's first no-take zone for marine nature conservation was designated at Lundy.

Day 4

TRESCO, ST MARY'S, ISLES OF SCILLY, UK

For many visitors Tresco is the most attractive of the Isles of Scilly. This is especially due to its Abbey Garden, which is home to thousands of exotic plant species from around 80 different countries. Plant collector Augustus Smith began the gardens in the 1830s on the site of an old Benedictine Abbey by channeling the weather up and over a network of walled enclosures built around the Priory ruins. He had three terraces carved from the rocky south slope and maximized Tresco's mild Gulf Stream climate. Even in mid-winter there still are hundreds of plants flowering here. Another surprising attraction at the Abbey Garden is the collection of figureheads from ships that wrecked among the Isles of Scilly.

Scattered 30 miles offshore from England's most south-westerly point – Land's End – the Isles of Scilly are home to rich wildlife, and green land sloping to powdery white beaches. The Isles of Scilly's biggest island harbors around 1,600 people – roughly three-quarters of the total population – and is one of five occupied islands. Isolated and serene, life here hums along at its own pace in this archipelago's bubble, which enjoys the UK's mildest climate, and some of its most spectacular beaches. Hugh Town is the center of St Mary's, and you'll be warmly welcomed by the incredibly tight-knit local community. A peaceful place, watch out when the waters are suddenly parted by the competition of gig racing – the island's sporting pride and joy – which sees teams competing in colorful rowboats. Elsewhere, catch sight of Atlantic seals and seabirds like puffins and fulmars, along nine miles of coastline. You can also spot the ghostly shipwrecks strewn around the island's waters, and the 140 islands and skerries that have made treacherous sailing historically. There's a dense collection of historical sites that belies the islands' small size – from a former prime minster's grave to star-shaped fortresses. Tresco Abbey Garden is one of the UK's most vibrant gardens, with diverse plants bathing in the warmer climate and over 300 species on display. Taste the rewards of the mild weather with a glass of wine from England's most south-westerly vineyard.

Day 5

ILE DE BREHAT, LES SEPT ILES, FRANCE

The Héaux de Bréhat is a striking lighthouse originally built in 1840 to mark the entrance to Ile de Bréhat. The island was once connected to the nearby mainland of France when it was first settled during Neolithic times. Now it is the main island of the Bréhat Archipelago, a collection of 80 or so rocky islets and reefs off the coast of Brittany. The island attracts day visitors who walk or cycle to explore the island or relax on beaches or in the village square of Le Bourg. The flora of the island is an interesting mix of cooler climate heaths and plants more commonly seen in warmer Mediterranean climates. The island is part of a zone where climates meet, and temperatures are influenced by the warm Atlantic currents. This ensures a rich and varied flower display in summer. This adds to the attractive scenes of pink granite that make up the island. Tidal power has been in use on the island long before it become trendy as an alternative energy source. Birlot flour grinding mill was built between 1633 and 1638 by the Duke of Penthièvre, lord of Bréhat. At high tide, water floods into a lagoon and as the tide falls the flowing outlet water turns a wheel which operates the grinding stones. After a short hiatus in the 20th century the mill was restored and still operates. Other historic buildings include the 12th century Notre-dame church, a fortress and Paon Lighthouse where, legend says, if a girl skips a flat pebble across the sea, the number of bounces counts the years until she marries. Try it!

How many islands? The name of Les Sept Îles off the coast of Brittainy means 'the seven islands'. However, you will only count five if you follow the Law of the Sea definition of an island as "a naturally formed area of land above water at high tide that can support human or economic life". Actually, the name is not about numbers but is from a corruption of the old Breton name for the islands—the Jentilez. Breeding seabirds have long attracted people. Hunting to near extinction of puffins on Les Sept Îles lead to the creation of the Ligue pour la Protection des Oiseaux, the French society for the protection of birds. In 1912 they made the islands a private nature reserve. April to May is the breeding time for Puffins and Common Guillemots. Other birds such as Kittewakes, Northern Fulmars, Cormorants, and Shags linger longer. The most numerous, spectacular and largest birds are Northern Gannets. They cover high domed Rouzic Island with large messy nests and a whitewash of droppings. Gannets are the world's best high divers, and you may see them plummet from a great height into the sea seeking fish. People have lived at Les Sept Îles in the past, such as the former keepers of the solid lighthouse on Île aux Moines. The island is named for the monks who built a monastery here, but they left after finding island life was too harsh. The ruins of fort and gunpowder store are still visible. The seal and bird inhabitants of the islands find islands less tough than the monks and are here to stay.

Day 6

USHANT, ILE D'OUESSANT, FRANCE

The Island of Ushant (Ouessant in French) is a geographical mega-star. Thirty kilometers (18 miles) offshore of Brittany, the island has Pointe de Pern, the westernmost point of France. The island's name in the Breton language, is Enez Eusa meaning "the farthest Island". Ushant and Land's End in Cornwall mark the southern entrance of the English Channel; and Ushant helps mark the southern limit of the Celtic Sea, which extends between Ireland and France. Seafarers have used Ushant as a start and finish for yachts circumnavigating the world. Rocks of the low island of Ushant have always posed a threat to ships. The names of some lost sailors and ships wrecked there are recorded in the cemetery at Lampaul, the main town. Six lighthouses assist the 50,000 vessels travelling past each year—the Phare de Créac'h has the most powerful light beam in Europe, with a reported reach of 69 kilometers (43 miles) in clear conditions. Lighthouses are built of rock blocks carved from the island's base of pink granite. Le Stiff has an unusual name, maybe as the lighthouse has a strong double tower design. Island locals are proud of their sheep. The Ouessant is a small black breed that has evolved on Ushant. There are about 600 living on the island today with others sent to the mainland as heritage flocks. The human population is a little larger in number and is centered around the port of Lampaul, a base for local fishing vessels. At 10 kilometers (6 miles) in length, the island is easy to explore for lights and sheep.

Day 7

ILES DES GLENAN, CONCARNEAU, FRANCE

White sand beaches and a turquoise sea attracts visitors to the Glénan Islands. A cluster of nine low islands and many rocky outcrops surrounds a central lagoon of protected waters. All the islands are tiny, with a total area of only 5000 hectares (12,000 acres). The islands are all visible at once from a high vantage such as a ship. The stunning white sands are produced from the break-up of Maërl, a calcareous marine alga, which makes the beaches look like a tropical coral shoreline. The islands are treeless, so there is little shade, but there are brightly colored flowers such as the blue Borage and the rare Narcissus of Glénan. The Narcissus is a beautiful white flower related to daffodils. It produces a stunning mass display in spring, with a few flowers persisting to summer. As it is only found naturally on the Glénan islands, parts of the islands are a Nature Reserve to protect it. So please don't pick the flowers! Day trippers reach the main island of Saint Nicolas from the mainland of western Brittany 16 kilometers (10 miles) away by ferry or yacht. There are few facilities on the islands and visitors only flock to the island in summer weather. Visible from all points of Glénan is a lighthouse on Ile de Penfret, and Cigogne, a fort built on an isle by the French in 1756. The fort could hold 80 troops and was installed to protect the region from English pirates and prevent them using the lagoon as shelter. From our point of view today, it does not look like a hardship posting.

Fishing has dominated the Britanny town of Concarneau from its beginning. Starting as a safe harbor for local fishing boats it expanded to become an important port and fish processing base for a deep-water tuna fishing fleet. A museum highlights the rich fishing history, and other reminders of fishing both past and present are all around. The harbor shores have walking tracks, beaches and smaller villages to explore. Listen out for the Breton language of Britanny being spoken. The main town today is large and bustling and occupies the mainland of the harbor. The original old part of town, known as the Ville Close, is a different story. It was built on an island in the harbor for safety. A defensive wall around the town was constructed in the 14th century and upgraded in the 17th century. You can still patrol the ramparts of the wall today. The strategic safe harbor and town was fought over several times. One famous battle was in 1373 during the 100-year War when the Breton knight Bertrand du Guesclin, "The Eagle of Brittany", drove the English from the town. The inside of Ville Close is a jumble of timbered and gabled houses, often decorated with flowers, crowding cobbled streets. It is a tight fit, as the town is only 350 meters (1150 feet) by 100 meters (330 feet) in size. We can understand why the town overflowed to nearby shores. As you cross the bridge to Ville Close you leave much of the modern world and pass an old clock tower that perhaps symbolizes a step back to a medieval time.

Day 8

BELLE ILE, FRANCE

Lovely Belle Ile – or Belle Ile en Mer to give it its full title – carries its name well. Set 14 km off the coast of mainland Brittany, the "beautiful island in the sea" is an undiscovered marvel. Tourists are few and far on Belle Ile. And with reason – it's impossible to get to except by ship and even then it is pretty tortuous: the island is a six-hour car ride from Paris to the tiny port town of Quiberon, and is then followed by a 30-minute ferry ride. But it is well worth it. Pretty white fishermen's cottages welcome you, rocky creeks with waters worthy of the Caribbean (although not the same temperature) beckon you and sailing boats rock gently in their moorings. Le Palais, the island's main town, boasts a 16th-century citadel standing guard near the harbor. Monet painted the village of Sauzon in 1886 and Sarah Bernhart once owned a home on the island. The island's rich history dates back as far as 6,000 BC, when it was separated from mainland France. Over the years Belle Ile has fallen prey to many invasions, primary due to inadequate defenses. That all changed when Louis XIV commissioned Vauban to fortify the island and entrusted its management to the States of Brittany. After a short occupation of the island by the English (1761-1763), the island's land was divided up among all of its inhabitants. The French Revolution would further change things, and once Belle Ile was released from the king's domain, the island prospered with the development of agriculture, fishing, and ship building.

Day 9

GIJON, SPAIN

Think of the north coast of Spain and one does not immediately think surfing and cider. But, as you approach this pretty Asturian city that what you'll be greeted with. Gijon might not offer the sophistication of Barcelona or Bilbao, but it what it lacks in world-famous museums is more than made up for by its unique cultural identity, warm, welcoming charm and miles and miles of nature. Part of "Green Spain", weather in Gijon is a bit more of an issue here than in other parts of the country. As with most places that benefit from lush, verdant nature, it can (and does) rain here, so be prepared and don't let that tamper the joy of the exquisite, untouched coastline that stretches from Portugal to France. Gijon dates from Roman times, and the city hosts some superb Roman baths ruins. Some parts of the old city were destroyed in the Spanish Civil War, but from there grew a more streamline city, which seems to have remained lost in the time when it was built. You don't come to Gijon expecting bright lights and big cities, you come because that is what you are trying to get away from. The city is the self-proclaimed capital of Cider, tradition being to pour the (still, not sparkling) drink from a great height. Gijon's ciderhouses, called sidrerias, are found all over the city but the best ones (or the ones with the best view) are on the edge of the Cimavilla (old town), where you can enjoy the show of the waiter pouring your drink, while listening to the rumbling of the Atlantic Ocean crashing below.

Day 10

FERROL, SPAIN

English pilgrims have arrived in Ferrol by sea since Medieval times to walk to the city of Santiago de Compostela. Ferrol is a superb harbor with a narrow entrance fortified with forts. It had excellent strategic value as a deep safe harbor and was Europe's most important arsenal for the storage of arms and ammunition in the 17th century. It became a major naval base and ship building port for many centuries. Pilgrims walk inland from Ferrol on the Camino Inglés or English Way to Santiago. In the 8th century, a light in the forest was interpreted as marking the grave of the martyr St James. Millions of pilgrims began walking to the site, now Santiago, from all over Europe to ensure they spent less time in purgatory. Several caminos, or ways, make up the Camino Santiago with the French Camino most popular today for walkers of all countries and beliefs. For time-poor visitors, coaches can cut the travel time from Ferrol. The key destination for all pilgrims is the cathedral with its tomb of St James. The building is a masterpiece of Romanesque architecture, with the Pórtico de la Gloria entrance a jewel of medieval sculpture. The Old Town of Santiago is a World Heritage Site. Pilgrims walked through ancient forests and pockets of them persist today. Fragas de Eume Natural Park protects Atlantic woodlands of White Oak and cool temperate rainforest along the river. Within the park, the siting and design of Caaveiro Monastery demonstrates how the desire to be with nature is centuries old.

Day 11

CIES ISLANDS, BAIONA, SPAIN

The Cíes Islands are truly a natural paradise of exceptional ecological interest. The craggy granitic rock hills and cliffs of these three islands were once well known as a hideout for pirates. The western sides of the islands share nearly vertical cliffs and numerous sea caves, both formed by erosion from wave action generated by Atlantic squalls as they pass over the islands. The more sheltered eastern side is protected from the salt spray of Atlantic winds and has formed beaches and dunes carpeted with brushy vegetation. The area is now a nature reserve and home to over 15,000 nesting seabirds, most of them Yellow-legged Gulls. The water around the islands is exceptionally clear and cool, and the islands are a favorite recreational spot for the local people.

Baiona was once an important maritime trading post in Galacia. Baiona's place in history is assured, as it was the first place in Europe to hear of the discoveries of Columbus. On 1st March 1493, the caraval Pinta, one of Columbus' ships, called in with the sensational news that Columbus had 'discovered' the Indies. Baiona's old town is a district behind the busy and more modern waterfront. It is a circular area of narrow streets lined with Galician terraced houses. Take the time to absorb its old-world charm. Good ports attracted envy and greed. The Castelo de Monterreal was built in a strategic position overlooking the port and town. Built over time between the 12th and 16th centuries it defended the town from enemies and pirates. One attack the town fended off was from Sir Francis Drake in 1585. The castle is now a paradore. Paradores are Spanish historic buildings converted into luxury accommodation and restaurants. Visitors may walk castle battlements, dine and enjoy panoramic views and Galician entertainment. People lived on the hillsides of Mount Santa Tecla, south of Baiona, 2000 years ago. They belonged to the Castro culture, named after the castros or hillforts they built. The archaeological site of Castro de Santa Tecla has been excavated. Artefacts prove that the castro was occupied when the Romans arrived in the area. Part of the castro has been rebuilt to allow visitors to walk in ancient footsteps. But not the footsteps of those who carried shellfish from the coast for food.

Day 12

OPORTO (LEIXÕES), PORTUGAL

Steep, stacked banks of evocative buildings and cobbled streets perch scenically over the River Duoro, in this authentic, atmospheric Portuguese city. Famed for its wine and bright azulejo tiles – which turn streets into art galleries – Oporto is a charming taste of the real Portugal. Wander the uneven paths of the country's second-largest city, which are soaked with history, tradition and eye-catching details. Start in the gorgeous, historic Ribeira neighborhood at the River Douro, and walk up through tiny alleys and narrow streets lined with restaurants and cafes. Catch your breath with a coffee, and be sure to try the famous pastel de nata pastry as a sweet accompaniment. Enjoy views of the colorful city from the skeletal Ponte de Dom Luis I bridge. Its design might ring a bell – the structure was created by a student of Gustav Eiffel, and has a similar aesthetic to his famous tower creation. Porto Cathedral sits on a rise of steps, towering above the city and offering spectacular views down. The cloisters are a highlight – with beautiful mosaics of the renowned blue and white tiles gleaming. If you're hungry, the indulgent Francesinha sandwich will fill you up for days. A Portuguese take on French toast – it's packed full of ham and slathered in cheese, egg and sauce. Or settle in for a feast on some of Portugal's ubiquitous salted cod, Bacalhau. The climate nurtures the revered vineyards, which surround the city, helping to produce harvests of perfect grapes. Head out to landscapes coated in vineyards from the Douro Valley to try some of the finest local wines.

DAY 13

ARRIVE LISBON, PORTUGAL

A glorious mosaic of beauty, freedom and authenticity, Portugal's capital is a stirring artwork of a city. Known for the seven hills it spreads across, and its stirring fado music, Lisbon is a pastel-colored blend of houses and beautiful tile artworks – and this creative city strikes a perfect harmony between natural and manmade beauty. Stroll along Alfama's steep, cobbled streets as you explore one of the city's oldest neighborhoods – where each house and door could be its own photograph. Look for the decorative tiles, with the distinctive blues and whites of Azulejo ceramics, and visit the dedicated museum to learn more. Afterwards, wind up to São Jorge Castle, where views out across Lisbon's red rooftops unravel. Just one of many majestic viewpoints, you can also seek out Miradouro da Graça for perhaps Lisbon's finest panorama, with the copper-colored suspension bridge stretching over sparkling water beyond the sea of buildings. The elegant Tower of Belém rises in the Tagus estuary and is a historic defender of these shores. The grand, carved cloisters of Jerónimos Monastery spread out close by, and there's another UNESCO recognized location close by at Sintra, where a colorful town is set amid thick gardens and towering mountains – capped by the royal Pena Palace. Later, relax and take a quick break to drink Ginjinha, a cherry liqueur made from chocolate cups instead of coffee. Lisboetas have a sweet tooth, and the famous Pastel de Nata's crumbling pastry and caramelized-custard topping is the essential accompaniment to any coffee stop.
Silver Cloud
After extensive refurbishment, Silver Cloud is the most spacious and comfortable ice class vessel in expedition cruising. Her large suites, her destination itineraries and her unparalleled service make her truly special. Her four dining options will tantalise your taste buds and as 80% of her suites include a veranda, watching a breaching whale or a few cavorting penguins has never been so personal. Broad sweeping decks with multiple open spaces and a swimming pool complete what is surely the most distinctive expedition ship sailing today. A limited number of guests in polar waters, mean that Silver Cloud has the highest space to guest and crew to guest ratios in expedition cruising. With her 16 zodiacs, 10 kayaks, possibilities are almost limitless with ship-wide simultaneous explorations. Finally, a team of up to 22 passionate and dedicated expedition experts are always at hand to ensure your voyage is enhanced every step of the way.
GUESTS: 254
CREW: 223
LENGTH: 514.14 Feet / 156.7 Meters
SUITES
Silversea's oceanview suites are some of the most spacious in cruising, and all include the services of a butler. Select your suite and Request a Quote – guests who book early are rewarded with the best fares and ability to select their desired suite.
Owner's Suite
This stylish apartment offers the superlative in levels of space, comfort and service on board. A perfect mix of expedition experience with luxury lifestyle. Available as a one-bedroom configuration or as two bedroom by adjoining with a Vista Suite.
Grand Suite
Expertly designed and exquisitely appointed. The ideal space for sharing stories with fellow explorers and new friends. With enough space to roam both in and outside, this suite is perfect relaxing and recounting the highlights of your day. Available as a one-bedroom configuration or as two-bedroom by adjoining with a Veranda Suite.
Royal Suite
Stately. Commanding and majestic. Perfect for relaxing after a days' exploring and looking through your photos. With lectures being streamed live to your room, this is the pinnacle of good living at sea. Available as a one-bedroom configuration or as two-bedroom by adjoining with a Veranda Suite.
Silver Suite
Stylish and sophisticated with larger verandas, excellent for taking pictures and bird-watching. Situated midship, this suite is perfection in design and comfortable living. A huge walk in wardrobe, a beautiful marbled bathroom and a spacious living area completes the picture. Silver Suites accommodate three guests.
Medallion Suite
With a room configuration that favors watching the sun rise from the comfort of your bed and losing yourself in the mesmerizing seascapes, this suite is the perfect answer to adventure cruising. A large walk-in wardrobe, and an expansive living make the Medallion Suite a your home away from home on the high seas. Medallion Suites accommodate three guests.
Deluxe Veranda Suite
A Silversea signature, with a preferred central location, the Veranda Suite is spacious and welcoming.Floor-to-ceiling glass doors open onto a furnished private teak veranda from where you can contemplate anything from the midnight sun to an antarctic sunrise. The Deluxe Veranda Suite offers preferred central location with identical accommodation to a Veranda Suite.
Veranda Suite
A Silversea signature, the Veranda Suite is spacious and welcoming. Floor-to-ceiling glass doors open onto a furnished private teak veranda from where you can contemplate anything from the midnight sun to an antarctic sunrise. Some Veranda Suites accommodate three guests (Suites going from 505 to 510, and from 605 to 610).
Vista Suite
Your home away from home while you embrace the intrepid explorer within. The suite's seating area has plenty of room to relax while you go over your notes, ready for the next adventure. Large picture windows frame panoramic ocean views, ideal for appraising the local wildlife.
RESTAURANTS
Discover our collection of onboard venues where you'll enjoy spending time with like-minded travelers and of course, our personalized all-inclusive service.