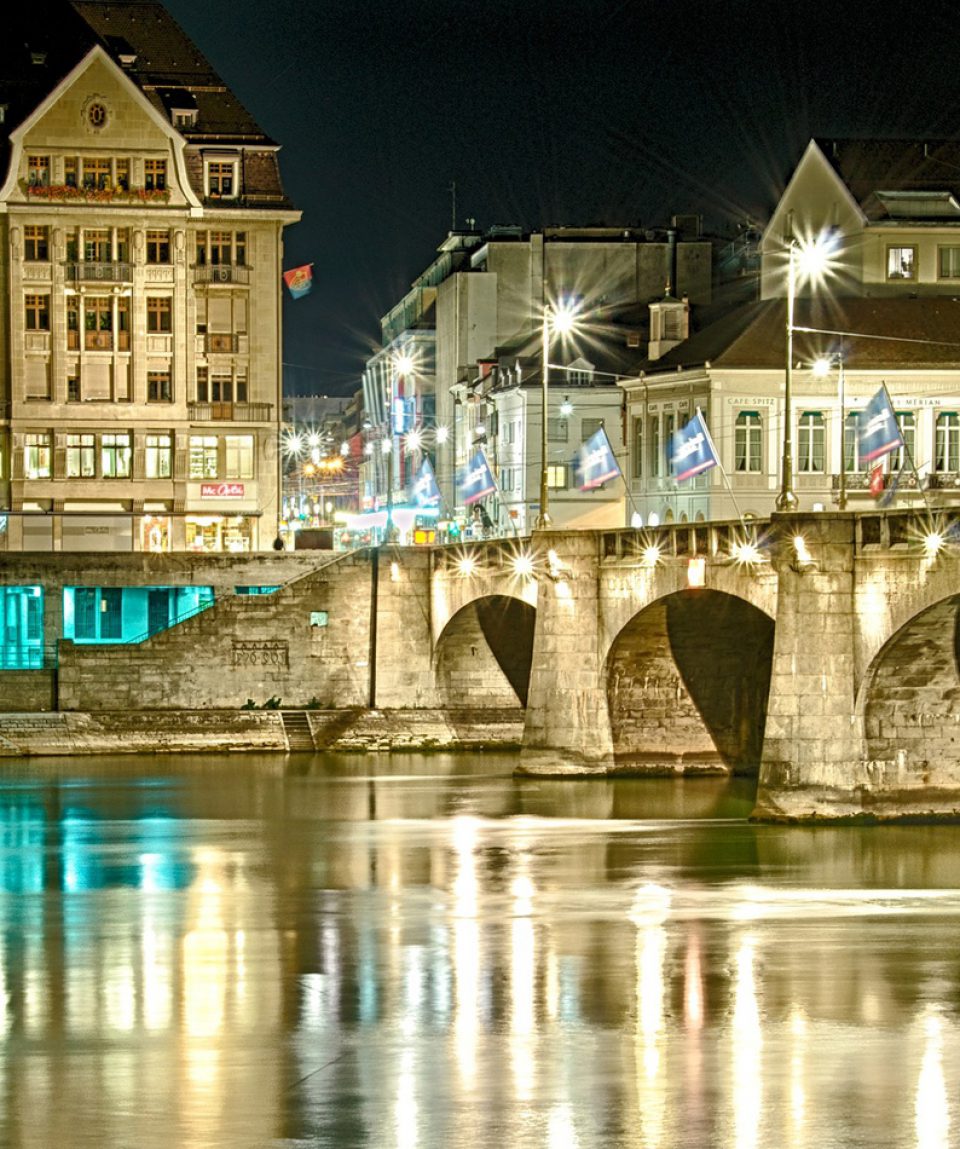 ENCHANTING RHINE
DATES: 2024: AmaSiena: 3/21; 4/4, 18; 5/2, 16, 30; 6/13, 27; 6/13, 27; 8/8, 22; 9/5; 10/3, 17, 31; 11/14; 12/26  AmaLucia: 2/18; 3/3, 17; 5/9; 8/15, 29; 9/26; 11/7 AmaPrima: 3/27; 4/10W; 6/19  AmaCerto: 12/28
2025: AmaSiena: 3/20W; 4/3W; 5/1, 15, 29; 6/12; 7/24; 8/7, 21; 9/4; 10/2, 30; 11/13; 12/25  Ama Lucia: 2/16; 3/2, 16; 5/8; 8/14, 28; 9/25; 10/23; 11/6  AmaPrima: 3/26; 5/21; 6/25; 8/20;0/15  AmaCerto: 5/14, 28; 7/23; 9/17; 11/12; 12/24 AmaViola: 5/3, 17, 31; 6/14, 28; 7/12, 26; 8/9, 23; 9/6, 20; 10/4, 18; 11/1, 15; 12/27  AmaStella: 8/16, 30; 9/27; 10/11; 11/8
W = Wine Cruise
DURATION: 8 DAYS/7 NIGHTS
EMBARK:  BASEL, SWITZERLAND
DISEMBARK:  AMSTERDAM, NETHERLANDS
SHIPS: AmaSiena, AmaLucia, AmaPrima, AmaCerto
FROM: $2,499 – Plus Port Charges
Up to 20% Savings on Select Dates
BOOK BY DEC 31, 2023

All about the ENCHANTING RHINE.
Grand cities blend in perfect harmony with their historic past and their progressive future. Inspirational towns have given way to great stories, poetry and music, like Heidelberg, where Mark Twain wrote A Tramp Abroad. Timeless traditions remain intact—from the making of Kölsch, Cologne's legendary brew, to the making of Rüdesheimer coffee. Take a front-row seat on an enchanting journey that takes you along the Rhine and through its designated UNESCO World Heritage Site with its 40 castles strung like pearls on its river banks and to magnificent cities and charming villages alike.
COUNTRIES: FRANCE, GERMANY, NETHERLANDS, SWITZERLAND
RIVERS: RHINE

The tour package inclusions and exclusions at a glance
What is included in this tour?
Items that are included in the cost of tour price.
SPACIOUS STATEROOMS
7 nights luxury accommodation in an outside stateroom (most with twin balconies)
Computer for internet access
Entertainment-On-Demand in all staterooms featuring free high-speed internet access, movies, a music library and English language TV stations
Mini-fridge, desk and sitting area
Bottled water replenished daily
AN ARRAY OF AMENITIES
Wellness Program with a dedicated Wellness Host leading various exercise classes as well as discussions on healthy eating and relaxation techniques, both on board and on shore.
Personalized service from a highly trained Cruise Manager during both cruise and land programs
Internet and Wi-Fi access
Sun deck pool with swim-up bar and walking track
Fitness room, massage services and hair salon
Main Lounge with panoramic views and bar
Daily entertainment including cultural performances
AWARD-WINNING DINING
All onboard dining in a variety of venues
Regionally inspired cuisine made with locally sourced ingredients
The Chef's Table specialty restaurant
Welcome Cocktail, Welcome Dinner, La Chaîne des Rôtisseurs Dinner, Captain's Cocktail and Gala Dinner
La Chaîne des Rôtisseurs exclusive dining experience
Unlimited fine wine, beer and soft drinks with lunch and dinner
Unlimited sparkling wine and fresh juice with breakfast
Sip & Sail Daily Cocktail Hour with complimentary wine, beer, spirits and soft drinks
Tapas, sandwiches, snacks and refreshments served daily in the Main Lounge
A WORLD OF EXPLORATION
Immersive tours in every destination
Gentle, regular, active and late-riser tour options
Bike tours and hikes
Special Interest Tours
Knowledgeable guides
Personal headset for easy exploration
Airport transfers with purchase of air from AmaWaterways
Whats not included in this tour.
Items that are not included in the cost of tour price.
Air fare (Unless Free Air)
Gratuities
Personal expenses, Gift Shop
Beverages, other than with Lunch or Dinner
Port Charges
Pre- or Post-Cruise arrangements
Day 1

Basel, Switzerland - Embarkation

Embark the ship. Tonight, gather on board and meet your fellow passengers. (D)

Day 2

Breisach, Germany - Riquewihr Excursion

Breisach is your gateway to several different excursions, depending on your interests. Step back in time with a visit to the enchanting Alsatian town of Riquewihr, which looks almost the same as it did in the 16th century. On your walking tour, admire historic architecture as well as famous sights, such as the Dolder Gate. Alternatively, you may wish to go to Freiburg, founded in 1120 and home to the Freiburg's Münster, a Gothic cathedral said to have "the most beautiful spire on earth." Those wishing a more active excursion can cycle through the scenic countryside, or go on a hike to the Black Forest, a magical land full of cultural traditions. (B,L,D)

Day 3

Strasbourg

Strasbourg, the capital city of Alsace, offers flavors of both France and Germany because of its borderline location. Enjoy a panoramic tour past the stunning Parc de l'Orangerie, the European Parliament and the Place de la République. Then walk through its iconic UNESCO World Heritage "La Petite France" district, which appears to have been lifted straight from the pages of a fairytale. Wander through these charming streets and past the Cathédrale de Nôtre Dame with its famous astronomical clock. For the active adventurer, you can take a guided bike ride through this captivating city and Parc de l'Orangerie. (B,L,D)

Day 4

Ludwigshafen

Ludwigshafen is your gateway to a choice of three excursions. Visit Heidelberg, the perfectly preserved medieval city nestled in the Neckar River Valley along Germany's Castle Road. Discover the iconic red sandstone Heidelberg Castle and Great Vat, an 18th-century 49,000-gallon wine cask. For a more active adventure while in Heidelberg, join a guided hike up the Philosopher's Path, aptly named during the Romantic Period, and be rewarded with panoramic views of the city. Alternatively, you can visit one of Germany's oldest cities, Speyer, known for the largest Romanesque cathedral in Europe—a UNESCO World Heritage Site—and the medieval Altpörtel, Old Gate. Later in the day, sail to Rüdesheim where you can visit Siegfried's Mechanical Music Museum; or taste one of the town's special delights, Rüdesheimer Coffee, ceremoniously made with brandy. (B,L,D)

Day 5

Rüdesheim

Your exploration of Rüdesheim continues with your choice of three excursions. Take a gondola ride to the Niederwalddenkmal Statue, where you can enjoy panoramic views of the river. Afterwards, indulge your taste buds with a sampling of Riesling wines in the vineyards. If you prefer a more active adventure, you can join a guided bike ride through the town and along the Rhine River to Schloss Johannisberg or hike through the town's beautiful vineyards. During the afternoon, set sail along the scenic Rhine River Gorge with its fabled legends and many castles to Lahnstein where you'll enjoy a visit to Lahneck Castle. (B,L,D

Day 6

Cologne, Germany

Home to one of Germany's most revered Gothic masterpieces, the Cologne Cathedral, this 2,000 year-old city is also a bustling cosmopolitan hotspot. Join a guided tour through the enchanting Old Town and explore the UNESCO-designated cathedral, where the remains of the fabled Three Kings—the Magi— are believed to rest. Alternatively, ride a bike along the Rhine and through the historic Stadtgarten; or visit a local tavern to taste Kölsch beer and Reibekuchen—potato pancakes served with applesauce. (B,L,D)

Day 7

Amsterdam, The Netherlands

Amsterdam boasts amazing history, art, architecture, and museums, and you have a choice as to how you wish to explore it. The famous canals of Amsterdam await discovery on your city tour beginning with a scenic canal cruise followed by a walk to Begijnhof, known for its Middle Age buildings. For a different view of the city, you can join the Jordaan tour. (B,L,D)

*Depending on docking location, Jordaan Tour may not operate; therefore, an alternative tour will operate instead.

Day 8

Amsterdam, The Netherlands

Bid Farewell to Amsterdam and prepare for your homeward flight. (B)
AmaPrima
Inspired by classic ocean yachts, the 162- passenger AmaPrima introduced in 2013, provides a distinctive river cruise experience. Spacious, elegantly appointed staterooms range in size from 160-290 sq. ft. or indulge even more in one of the suites at 300 sq. ft. Most accommodations have twin balconies, both a French and outside balcony, so you can enjoy the ever-changing scenery however you wish. Additional stateroom amenities include Entertainment-On-Demand, featuring free high-speed Internet access, unlimited Wi-Fi, movies, music and English language TV stations; climate-controlled air conditioning; and an in-room safe. In the marble bathroom, enjoy multi-jet shower heads, soothing bath and body products, robes and hair dryers. Suites feature added enhancements, including a larger sitting area with sofa and two chairs, and an expansive bathroom complete with a bathtub and separate shower. The AmaPrima offers a host of added comforts and conveniences, including a massage and hair salon, gift shop and specialty coffee station. The stunning Main Lounge provides an exhilarating backdrop for meeting your fellow guests and enjoying nightly entertainment. As a member of La Chaine des Rotisseurs, the exclusive international culinary society, you'll be treated to exquisite, locally-inspired cuisine always paired with unlimited wine, as well as beer and soft drinks with lunch and dinner. You'll also relish a variety of dining venues, including The Chef's Table specialty restaurant, featuring an exquisite tasting menu prepared right before your eyes. With a walking track and heated swimming pool on the Sun Deck, a fitness room and a fleet of onboard bicycles to use on your own or on one of the many guided bike tours, as well as healthy menu choices, you'll have everything needed to stay active and healthy while sailing Europe's great rivers.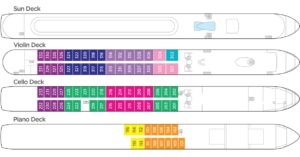 AmaStella 
Inspired by luxury yachts and designed specifically to maximize the enjoyment of every guest, the AmaStella introduced in 2016, provides a distinctive river cruise experience. Relax in spacious, elegantly appointed staterooms. Most accommodations have twin balconies, both a French and outside balcony, so you can enjoy the ever-changing scenery however you wish. Additional stateroom amenities include Entertainment-On-Demand, featuring free high-speed Internet access, Wi-Fi, movies, music and English language TV stations; climate-controlled air conditioning; and an in-room safe. In the marble bathroom, enjoy multi-jet shower heads, soothing bath and body products, robes and hair dryers. Suites feature added enhancements, including a larger sitting and an expansive bathroom complete with a bathtub and separate shower. The AmaKristina offers a host of added comforts and conveniences, including a massage and hair salon, gift shop and specialty coffee station. On the Sun Deck, enjoy a dip in the heated pool, as well as a refreshing beverage at the swim-up bar. The stunning Main Lounge provides an exhilarating backdrop for meeting your fellow guests and enjoying nightly entertainment. As a member of La Chaine des Rotisseurs,, the exclusive international culinary society, you'll be treated to exquisite, locally-inspired cuisine, along with unlimited wine and beer with lunch and dinner. You'll also relish a variety of dining venues, including The Chef's Table specialty restaurant, featuring an exquisite tasting menu prepared right before your eyes. With a walking track on the Sun Deck, a fitness room and a fleet of onboard bicycles, as well as healthy menu choices, you'll have everything needed to stay active and healthy while sailing Europe's great rivers