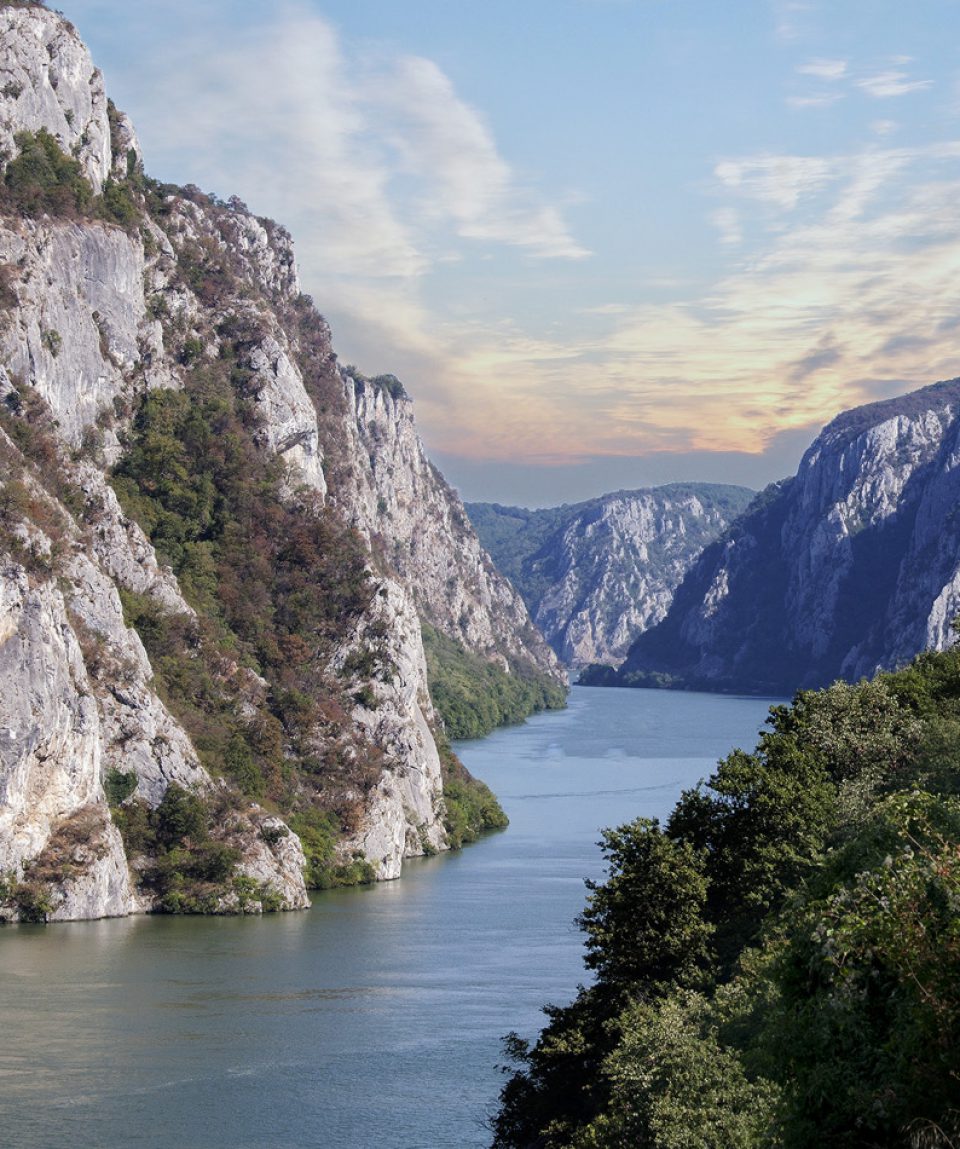 Grand Danube
DATES: 2023 – Mar 26, 27* | Apr 3, 9*, 10, 17*, 23, 24* | May 1, 7*, 8, 15*, 22*, 29 | Jun 4*, 5, 12*, 18, 19*, 26 | Jul 10*, 17*, 24, 31 | Aug 7*, 14*, 28 | Sep 4*, 11*, 18 | Oct 2*, 9*, 16, 23, 30* | Nov 6*, 13, 20 | Dec 11
2024 – Mar 24, 25* | Apr 1, 7*, 8, 15*, 21, 22*, 29 | May 5*, 13*, 20*, 27 | Jun 3, 10*, 16, 17*, 24, 30* |   Jul 1, 8*, 15*, 22, 29 | Aug 5*, 12*, 19, 26 | Sep 2*,   Sep 9*, 16, 23, 30* | Oct 7*, 14, 21, 28* | Nov 11, 18 | Dec 9
DURATION: 15 DAYS/14 NIGHTS
EMBARK: Vilshofen, Germany
DISEMBARK: Giurgiu, Romania
* Reverse Itinerary
SHIPS: AmaVerde, AmaBella, AmaMagna
FROM: $4,948*   Plus Port Charges
*After Up to $1,250 per person Savings

All about the Grand Danube.
Journey along paths forged by conquerors, crusaders and kings through Romania, Bulgaria, Serbia, Croatia, Hungary, Austria, and Germany. Step back in time to explore the history and mystery living in the hillsides while cruising the Danube and through the Iron Gates. Legends of all kinds are waiting to be uncovered—Belogradchik, one of Bulgaria's natural wonders, and the Rock-Hewn Churches of Ivanovo, built into the side of a mountain showcasing well-preserved medieval frescos. Experience the Romans' influence firsthand in Pécs, "the city of Mediterranean impressions," and through the taste of wine in Ilok, a center of wine production since Roman times. From the imposing capitals of Budapest and Vienna to towns lost in time, immerse yourself in the colorful folktales and traditions of the extraordinary people and places you visit along the way.
COUNTRIES: AUSTRIA, BULGARIA, CROATIA, GERMANY, HUNGARY, ROMANIA, SERBIA, SLOVAKIA
RIVERS: DANUBE

The tour package inclusions and exclusions at a glance
What is included in this tour?
Items that are included in the cost of tour price.
SPACIOUS STATEROOMS
14 nights luxury accommodation in an outside stateroom (most with twin balconies)
Computer for internet access
Entertainment-On-Demand in all staterooms featuring free high-speed internet access, movies, a music library and English language TV stations
Mini-fridge, desk and sitting area
Bottled water replenished daily
AN ARRAY OF AMENITIES
Wellness Program with a dedicated Wellness Host leading various exercise classes as well as discussions on healthy eating and relaxation techniques, both on board and on shore.
Personalized service from a highly trained Cruise Manager during both cruise and land programs
Internet and Wi-Fi access
Sun deck pool with swim-up bar and walking track
Fitness room, massage services and hair salon
Main Lounge with panoramic views and bar
Daily entertainment including cultural performances
AWARD-WINNING DINING
All onboard dining in a variety of venues
Regionally inspired cuisine made with locally sourced ingredients
The Chef's Table specialty restaurant
Welcome Cocktail, Welcome Dinner, La Chaîne des Rôtisseurs Dinner, Captain's Cocktail and Gala Dinner
La Chaîne des Rôtisseurs exclusive dining experience
Unlimited fine wine, beer and soft drinks with lunch and dinner
Unlimited sparkling wine and fresh juice with breakfast
Sip & Sail Daily Cocktail Hour with complimentary wine, beer, spirits and soft drinks
Tapas, sandwiches, snacks and refreshments served daily in the Main Lounge
A WORLD OF EXPLORATION
Immersive tours in every destination
Gentle, regular, active and late-riser tour options
Bike tours and hikes
Special Interest Tours
Knowledgeable guides
Personal headset for easy exploration
Airport transfers with purchase of air from AmaWaterways
Whats not included in this tour.
Items that are not included in the cost of tour price.
Beverages other than those mentioned
Gratuities to crew and Cruise Director – Suggested 15 Euros per guest, per day
Airfare
Items of personal nature, gift shop purchases
Pre and post cruise extensions and hotels
Travel Insurance
Day 1

VILSHOFEN, GERMANY - EMBARKATION

Embark in Vilshofen to begin your cruise. Later in the day, enjoy a festive Oktoberfest celebration – an AmaWaterways exclusive. (B,D)

Day 2

VILSHOFEN - PASSAU

Enjoy a free morning to walk around this quaint village. Later, cruise to Passau, and take a walking tour among the Gothic and Italian Baroque architecture and St. Stephen's Cathedral. Or choose between a guided bike tour along the Danube River or a guided hike to the Veste Oberhaus fortress. (B,L,D)

Day 3

LINZ

Opt for a full-day excursion to Salzburg where you'll tour the historic center, Mirabell Gardens, Residenz Square and the Old Market. En route to Salzburg, stop at Mondsee, home of the Basilica St. Michael. Or join a morning walking tour through the old city center of Linz and by the Mozart House; or go on a bike tour of the city's famed "Cultural Mile" and the Danube. You can also choose to visit charming Český Krumlov, located just over the Czech-Austrian border. (B,L,D)

Day 4

WEISSENKIRCHEN, AUSTRIA

The "City of Waltzes" is a treasure trove and your city tour showcases its regal splendors, including the majestic Opera House and the former Imperial Palace of the Habsburgs. Conclude your tour in the UNESCO-designated historic city center and visit St. Stephen's Cathedral. For a more active exploration, take a guided bike ride through Vienna. During the afternoon, enjoy leisure time exploring this iconic city even more. (B,L,D)

Day 5

VIENNA, AUSTRIA

Cruise to Melk, known for its magnificent Benedictine Abbey, a UNESCO World Heritage Site and one of Europe's largest and most revered monasteries. Alternatively, you can join a guided bike tour that takes you through the UNESCO designated Wachau Valley; or go on a walking tour along Dürnstein's cobblestone streets to the Baroque Stiftskirche, one of the finest Baroque towers in Austria. Later in the day, set sail through the vineyard-rich Wachau Valley (B,L,D)

Day 6

BRATISLAVA, SLOVAKIA

Host to the crowning ceremonies of 11 Hungarian kings and queens between 1536 and 1830, Bratislava certainly has earned the title "Coronation City of Kings," as you'll discover during your walking tour. Or join a special "Tastes of Slovakia" tour. For a more active adventure, hike up to Bratislava Castle, offering magnificent views of the city. (B,L,D)

Day 7

BUDAPEST, HUNGARY

You cannot help but fall in love with Budapest, known as the "Queen of the Danube." Your city tour begins with a visit to the Great Market Hall. The remainder of this tour takes you to both the Buda (hilly) and the Pest (flat) sides of the river. Alternatively, hike up to Castle Hill for breathtaking views of the city. Cap the day off with a stunning illumination cruise and marvel at the sight of the Hungarian Parliament Building glowing against the night sky. (B,L,D)

Day 8

BUDAPEST - PUSZTA HUNGARY

Tradition will be on full display in Puszta, the Great Hungarian Plain. Tour a genuine Hungarian csárda (farm) run by the world champion carriage-drivers, the Lazar brothers. Afterwards, be treated to an unforgettable performance of Hungarian horsemanship and then experience the Hungarians' warm hospitality, along with a traditional lunch complete with typical Goulash. (B,L,D)

Day 9

MOHACS - PECS, HUNGARY

Enjoy a scenic morning cruise to Mohács and then visit Pécs, founded more than 2,000 years ago by the Romans. Visit the UNESCO-designated Christian Necropolis; St. Peter's Basilica, the city's main Catholic cathedral along with its catacombs; and Széchenyi Square, the heart of Old Town Pécs. You will also see the Mosque of Pasha Qasim the Victorious, one of the symbols of the city. Prefer to see the city on two wheels, join a bike tour; and for wine connoisseurs, you'll want to go instead to the Szekszárd wine region, one of the oldest red-wine-growing areas in Hungary, established more than 2,000 years ago. (B,L,D)

Day 10

VOKOVAR, CROATIA – NOVI SAD, SERBIA

Go on a city tour showcasing the Ovčara Memorial and Eltz Palace. Alternatively, choose a wine tasting in Ilok, a center of wine production since Roman times. Later, cruise to Novi Sad, the "Serbian Athens" and go on a walking tour to Dunavski Park and through Stari Grad, the Old Town center. Or, join a guided biking tour or hike through Fruska Gora National Park. During the evening, visit Petrovaradin Fortress. (B,L,D)

Day 11

BELGRADE, SERBIA

Explore Serbia's capital, Belgrade, on a city tour that includes the Kalemegdan Fortress and the Serbian Orthodox Temple of St. Sava. Later, choose from three intriguing excursions. Visit the Royal Palace, the official residence of the Serbian Royal Family; and then tour the House of Flowers, the mausoleum of Marshal Tito, who became the first President of Yugoslavia. Or enjoy a taste of the region by sampling Serbian plum brandy, Šlivovitz, and delicious local delights at the Quburich Distillery. For those wishing a more active adventure, join a guided bike tour or hike to well-preserved Belgrade Fortress with its conical towers. (B,L,D)

Day 12

THE IRON GATES - SCENIC CRUISING

The Iron Gates is one of Europe's most awe-inspiring natural wonders. The Danube narrows as it winds through a series of magnificent gorges between the Carpathian and Balkan mountains. (B,L,D)

Day 13

VIDIN, BULGARIA

Explore Vidin, one of Bulgaria's oldest cities, and surrounding areas with a choice of excursions. Discover Baba Vida Fortress, the largest preserved medieval castle in Bulgaria. Continue on to Belogradchik, one of Bulgaria's natural wonders, where you can hike around its most spectacular rock formations. Alternatively, visit a local home for a demonstration of traditional Bulgarian yogurt and Banitsa, a pastry you will also get to make. You also have the choice to bike through Vidin and to the castle. (B,L,D)

Day 14

ROUSSE – GIURGIU, BUCHAREST

Visit Bulgaria's ancient capital, Veliko Tarnovo, with its medieval fortress and multiple orthodox temples. You can opt instead to go to Rousse, known for its 19th- and 20th-century Neo-Baroque and Neo-Rococo architecture, and then afterwards visit the UNESCO-designated Rock-Hewn Churches of Ivanovo with frescos revealing exceptional artistry of 14th-century paintings. Later in the day, travel through the Romanian countryside to the capital of Bucharest, known as the "Little Paris of the East." Enjoy a panoramic tour of the historic city center and its elegant architecture, followed by a visit to the Palace of the Parliament, the second largest administrative building in the world. (B,L,D)

Day 15

GIURGIU, ROMANIA - DISEMBARK

Disembark your cruise in Giurgiu. (B)

Explore more of Romania, or return home.
AmaBella | AmaVerde | AmaMagna
All AMA Waterways ships share common attributes: Colorful and attractive decor from stateroom to Main Lounge immediately show you that these are no ordinary river cruise ships. Twin balconies in most staterooms maximize your enjoyment as steeples and vineyards glide by. Mouthwatering cuisine worthy of La Chaîne des Rôtisseurs, an exclusive and internationally-renowned gastronomic society, is served from sunrise to sunset. There's something symphonic about the flourish and style of The Chef's Table specialty restaurant and the coordinated effort to serve each bold, beautiful and delicious course of the regionally-inspired tasting menu. The inviting sun-deck pool or hot tub refreshes your spirit. Plus, these river cruise ships inspire you to be the best version of yourself with a walking track, fitness room and fleet of onboard bikes to keep you happy and healthy during your cruise.
AmaBella
Isn't she lovely? The AmaBella is a stunning river ship, unique in her own right. A classic design palette of black and white in the Main Lounge allows your conversations to provide the color. The intimate marbled bar is an inviting place to grab a cocktail and the Sun Deck putting green, featured only on select AmaWaterways ships, lures both regular golfers and newcomers alike. Most staterooms feature our signature twin balconies so you can enjoy the views however you wish, as well as Entertainment-On-Demand and marble bathrooms with multi-jet showerheads. Suites feature added enhancements, including a larger sitting area and an expansive bathroom complete with a bathtub and separate shower. You'll also find a massage and hair salon on board, as well as a fitness room, specialty coffee station and gift shop. Mealtimes are a feast for the senses in the Main Restaurant and at The Chef's Table.
TECHNICAL DATA
Built: 2010
Built in: Switzerland
Length: 443 feet
Width: 38 feet
Crew: 51
Staterooms: 80
Passengers: 160
Registry: Switzerland
Home port: Basel

AmaVerde
One of AmaWaterways' remarkable twin-balcony river ships, the inviting AmaVerde is full of light and love. Comfortably elegant staterooms in subdued tones set the mind at ease for a restful slumber, while warmth attracts visitors to the alluring fireside library and AmaVerde's earthy massage and hair salon.
TECHNICAL DATA
Built: 2011
Built in: Netherlands
Length: 443 feet
Width: 38 feet
Crew: 51
Staterooms: 81
Passengers: 161
Registry: Switzerland
Home port: Basel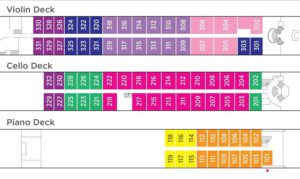 AmaMagna
As imagined by AmaWaterways' Co-Founder, Co-Owner and President Rudi Schreiner, the "Godfather of River Cruising," the AmaMagna is twice the width of traditional European river ships and offers more personal space, more unique dining venues and more leisure opportunities, redefining the river cruise experience! Most accommodations are spacious suites measuring 355 to 710 sq. ft. with full balconies. In addition to the Main Restaurant and The Chef's Table, AmaMagna introduces two enticing new dining venues: Jimmy's, a family-style restaurant named for AmaWaterways' late Co-Owner Jimmy Murphy, and the Al Fresco Restaurant, with retractable windows and outdoor seating. Both a sun-deck pool and whirlpool invite guests to refresh and enjoy the views. AmaMagna's Zen Wellness Studio is an expansive space with a fitness center, two massage rooms and a refreshing juice bar.
TECHNICAL DATA
Built:

2019

Built in:

Netherlands

Length:

443 feet

Width:

72 feet

Crew:

70

Staterooms:

98

Passengers:

196

Registry:

Switzerland