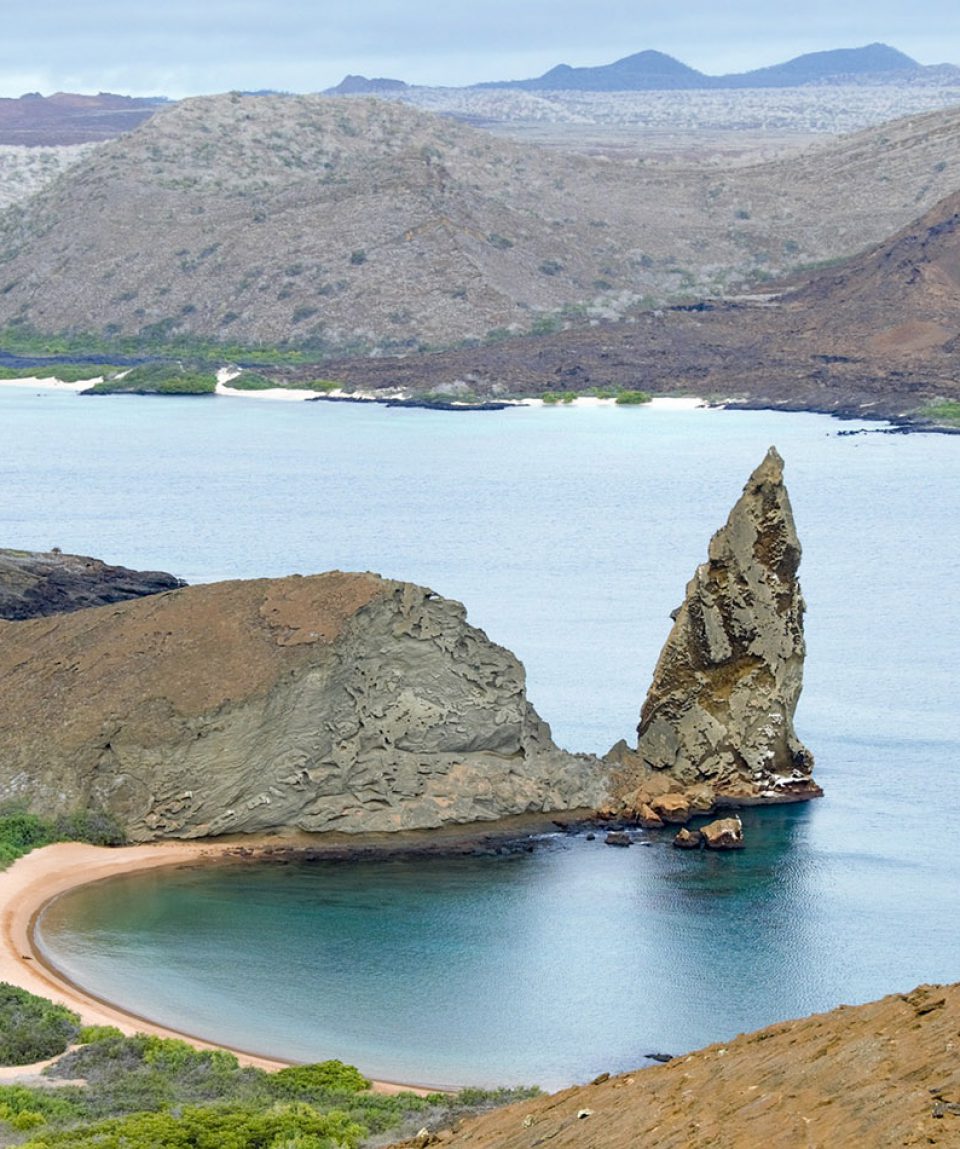 North Central Galapagos – Baltra to San Cristobal – Silver Galapagos
---
DATES: 2020 – ALTERNATE THURSDAYS – Year Round
DURATION: 10 DAYS/9 NIGHTS
EMBARK:  BALTRA, GALAPAGOS
DISEMBARK:  SAN CRISTOBAL, GALAPAGOS

SHIPS:  SILVER GALAPAGOS
CLICK HERE TO SEE PRIVATE EXPLOR CLUB OFFER
All about the North Central Galapagos – Baltra to San Cristobal – Silver Galapagos.
The only all inclusive ship in the Galapagos Islands, the all-suite Silver Galapagos is naturally suited for in-depth explorations. Make this elegant, intimate ship your home away from home as you discover this spectacular region. Includes two nights in Quito, air to Galapagos, return to Guayaquil, transfers and tour.
Expedition Highlights
Enjoy a Galapagos Expedition to snorkel with sea lions and hike along lava tunnels and back to the beginning of time. Silversea's Silver Galapagos will take you to the remote islands, whilst indulging you in the unrivaled all-suite comfort and elegant sophistication which has made us famous. Watch bellowing elephant bulls challenge each other in a spectacular display. Admire the courtship of a Blue-footed Booby. Step over iguanas basking in the sun. It is not only the abundance of wildlife, but their fearlessness that makes the Galápagos island cruise a nature lover's dream.
Visit "Bird Island" home to over 30 bird species.
Climb Prince Philip's Steps to see a thriving seabird colony and search for the Galápagos Short-eared Owl.
Observe sea lion families and the famed giant tortoises and marvel at the fearless behavior of wildlife.
Admire the antics of Red-footed and Blue-footed Boobies.
Hike up the sides of an extinct volcano and hike across lava flows.
See the Waved Albatross (depending on the season — April to December).
Swim and snorkel in tranquil, clear waters.
Photograph colorful marine iguanas.
Cruise by Zodiac along scenic coastlines.
Learn about conservation efforts at the "Fausto Llerena Breeding Center".
The tour package inclusions and exclusions at a glance
What is included in this tour?
Items that are included in the cost of tour price.
The Galápagos All-Inclusive Experience Includes:
Included flights between Ecuador and the Galápagos Islands
Included Transfers
Included two pre- and one post-cruise Hotel*
Included National Park fees
Personalized service – the best crew-to-guest ratio in expedition cruising
Butler service in every suite – all guests are pampered equally
Open-seating dining options – dine when and with whomever you please
Beverages in-suite and throughout the ship – select wines, premium spirits, specialty coffees and soft drinks, plus your own tailored mini-bar
In-suite dining and room service – available 24 hours aboard Silver Explorer, and from 06:00 to 23:00 aboard Silver Galapagos and Silver Discoverer
Enrichment lectures by a highly qualified Expeditions Team
Guided Zodiac, land and sea tours, and shoreside activities led by the Expeditions Team
Gratuities always included in your fare
Free Economy Air from North America Gateways
* For guests with flights after 10 pm
Whats not included in this tour.
Items that are not included in the cost of tour price.
Day 1

Quito, Ecuador

Meet and transfer to your included hotel. Arrive earlier to explore more of this wonderful, diverse country. Visit the Amazon region and stay at a fabulous wildlife center. See the colorful birds of Ecuador's Cloud Forest near Quito. We can make all the arrangements for you.

Day 2

Quito, Ecuador

Take in some of the numerous museums, and explore the beautiful historic district, a UNESCO World Heritage site. This evening enjoy a night walking tour of old Quito, where the historic buildings are illuminated.

Day 3

Embark Silver Galapagos and depart on your exciting Silversea Expedition — North Central Galápagos 

This morning you will be transferred to the Quito airport for your included flight to Baltra and the Silver Galapagos. After settling in, attending a mandatory safety drill and setting sail, you will be introduced to your Expedition Team. Silver Galapagos will then head for Daphne to do a circumnavigation –usually only scientist are allowed to land. From the ship we will watch for Nazca and Blue-footed Boobies, frigate birds, Red-billed Tropicbirds, Brown Noddies and Brown Pelicans, as well as Swallow-tailed Gulls. In the evening enjoy the first of many memorable meals in The Restaurant.

Day 4

Bahía Darwin, Genovesa Island

El Barranco, Prince Philip Steps, Genovesa Island is dubbed "Bird Island", a name it lives up to in a spectacular way. Huge colonies of seabirds create a birdwatcher's paradise. Take a walk on the sandy beach of Darwin Bay, home to one of the world's largest Red-footed Booby nesting colonies. Yellow-crowned Night Herons feed near tidal lagoons, while hundreds of Swallow-tailed Gulls nest in the cliffs. Climb "Prince Philip's Steps", a steep path named after the Duke of Edinburgh who visited the island in 1965, and you will be well rewarded: a remarkable spectacle of Nazca Boobies nesting on the ground, Great Frigate birds with their fiery red sacs, and, if you are lucky, you might see the elusive Short-eared Owl on a daytime hunt for Storm Petrels, a favorite prey. After a morning walk, we will have a chance to enjoy our first snorkeling excursion and experience the diverse, underwater wonderland that surrounds the island.

We will also have the opportunity to kayak around Darwin Bay — which is actually a flooded caldera —and admire the island's craggy landscape.

Day 5

North Seymour, Sullivan Bay, Santiago

North Seymour is a small up-lifted island close to Baltra filled with a spectacular profusion of wildlife — above and below the sea. Two species of frigate birds nest here; one of which, the Magnificent Frigate bird, is an opportunistic breeder. At any month of the year we may see males displaying their bright-red gular pouch to attract females. Galápagos sea lions snooze in the sand. Blue-footed Boobies perform their courtship dance called "sky-pointing". Marine iguanas and Galapagos land iguanas patrol the beach, while Brown Pelicans and Brown Noddies look for food in the shallow coastal waters. We will walk through this spectacular landscape, and afterwards have an opportunity to go snorkeling—perhaps even spotting the impressive whitetip reef shark.

Coming ashore on the east coast of Santiago Island, we will witness the marks Nature has left on the islands through its geological forces. Our landing will be on a white sandy beach or directly onto lava — depending on the conditions. In either case we will see the lava flows that are not much older than a hundred years — dating back to 1897. Here the very high temperature of the molten material, as well as its gas content, had caused the surface to be quite smooth. The appearance this lava has is almost like frail rope and the technical term for it is pahoehoe (a Hawaiian name that supposedly suggests the swirls left behind by a paddle (hoe) in the water). Since the lava has not moved equally in all places, the design of the surface texture induces one to see different objects and images in the lava. As the sun heats up the lava during the day, at the time of our visit the temperatures will have you back at the sandy beach and getting ready for snorkeling in due time. While we will look for shelter from the heat at the beach, be aware that animals like beaches, too. Apart from rays, turtles are quite fond of the beaches and come there to lay their eggs.

Day 6

Rabida and Eden, Santa Cruz

Rabida is a small picturesque island with red rock cliffs and maroon sand. Here we can see Darwin's finches, lava lizards and Galápagos Mockingbirds. Take a walk along the cliffs where the red rocks, green Palo Santo trees and the blue turquoise sea create landscapes of stunning contrast, while an underwater world teeming with colorful tropical species and vibrant submarine landscapes is equally amazing. After a short but rewarding hike, we will have the opportunity to swim or simply stroll along the beach and admire the sea lions snoozing along the shore. You can also go for a stunning snorkel-excursion with sea lions, reef sharks, marine iguanas, colorful anemones and parrotfish, or kayak along the picturesque Rabida cliffs.

Sail to Eden Islet for snorkeling, kayaking and Zodiac rides. Eden is a small, eroded tuff cone and an excellent example of the unique geology of the Galápagos. It is home to Great Blue Herons, sea lions, and Blue-footed Boobies; while the small tidal areas can be a resting place for reef sharks, eagle rays and green turtles, they also make an excellent spot for kayaking.

Day 7

La Galapaguera & Punta Pitt, San Cristobal

The most emblematic animal in the archipelago is the Galápagos giant tortoise. Over-hunting and competition with introduced animals has left its numbers close to extinction. Nonetheless, since the late 1950s, the tenacious work of the Galápagos National Park Service park rangers and the scientists of the Charles Darwin Research Station has been bringing those numbers back. We'll see these ancient reptiles and their babies, and learn more about current conservation efforts at Galapaguera Cerro Colorado. Breeding and rearing endemic animals in captivity is part of a much broader conservation program aimed at restoring and protecting the Galapagos Islands' natural biodiversity.

San Cristóbal is one of the oldest islands in Galápagos and the well-eroded landscape of Punta Pitt creates a dramatic landscape. We may see three species of boobies here: Red-footed, Blue-footed and Nazca, as well as both the Great and Magnificent Frigate bird. After a wet landing on an olivine beach where sea lions doze, we'll climb up a ravine to view one of the most scenic panoramas in the archipelago. San Cristóbal or Chatham lava lizards guide our way, while Red-footed Boobies and Nazca Boobies fly overhead.

Day 8

Bahía Gardner and Punta Suárez, Española

Don't miss a chance to swim with sea lions from the gorgeous beach at Gardner Bay. Relax on the white sands of this idyllic beach as the water laps gently in front of you. You may even spy some iguanas on the shore. Further out you can snorkel with large schools of colorful tropical fish and an occasional manta ray, while a whitetip reef shark naps on the bottom. You may wish to experience this from a kayak: paddling through crystal-clear waters while marveling at the natural wonders all around you.

In the afternoon we will visit Punta Suárez at the western point of Española, the oldest island in the Galápagos. Sheer cliffs provide superb thermals for seabirds. Swallow-tailed Gulls, Nazca Boobies and Blue-footed Boobies can easily be seen. The largest seabird to nest in the islands, the Waved Albatross, may be seen seasonally from April through December, and has made Española its home. Mockingbirds, doves, and occasional Galápagos Hawks can also be found, as well as sea lions and colorful marine iguanas.

Day 9

The Fausto Llerena Breeding Center and Puerto Ayora Town Visit, Santa Cruz, Plazas Sur

South Plaza is a neat little island located close to the eastern coast of Santa Cruz. Its main attraction is a colony of Galápagos land iguanas, but the setting is also a highlight — giant prickly pear cactus, the reddish sesuvium plant, a mat-like ground cover, and a large nesting colony of Swallow-tailed Gulls make this small island an excellent stop. Marine iguanas and Galápagos sea lions are also around.

Day 10

San Cristobal

Following breakfast, disembark Silver Galapagos for your return flight from San Cristobal Airport to Guayaquil and connect with your flight home, or to other adventures in Ecuador, Peru, or other South American attractions.
Silver Galapagos
SILVER GALAPAGOS
The Silver Galapagos is by far the largest, most comfortable and luxurious of all Galapagos ships. Accommodating a maximum of 100 guests, the ship was built for comfortable ocean cruising, and is a sister ship of the former "Spirit of Oceanus", one of the world's finest expedition ships. All cabins are outside Suites, ranging in size from 210 square feet to 287 square feet, with marble bathrooms, beds that can be configured as large Queen or two twins, sofa, flat screen TV, vanity dresser, large closets, and mini-bar. A crew of 70 (an incredible 1.4 to 1 ratio) looks after all your safety, comfort, dining and intellectually stimulating needs. There is ample room throughout the ship and on the open decks. Enjoy two hot tub spas, a shaded outdoor seating area, and an upper sun deck to relax. A masseuse is available to ease your tired body after a day of exploration. An elevator serves all five decks.
The government of Ecuador, and in particular the Galapagos National Park Service, closely monitors and control visitor activity in the Galapagos Islands. They have established very strict regulations concerning everything from which vessels are allowed to operate, to the licensing of naturalist guides. The maximum capacity of any ship visiting the Galapagos Islands is 100. You will not find any huge mega liners here! Vessel permits may no longer be bought and sold, or combined, as in the past. This means the majority of vessels are just 16 passengers, with just a few with higher capacities.
We have selected a small cross section of ships and yachts to present here. These are vessels I have been on or with which am very familiar.
One of my favorites is the SILVER GALAPAGOS, a smaller sister ship to the Spirit of Oceanus. She is all-suite – very large cabins – some with private balconies. She is very elegant, comfortable and stable. She carries up to 100 guests, though designed to carry a bit more.
A fleet of 6 zodiacs efficiently transports small groups to the remote islands with their English speaking naturalist guides. Daily recaps and presentations take place in the spacious and comfortable conference lounge