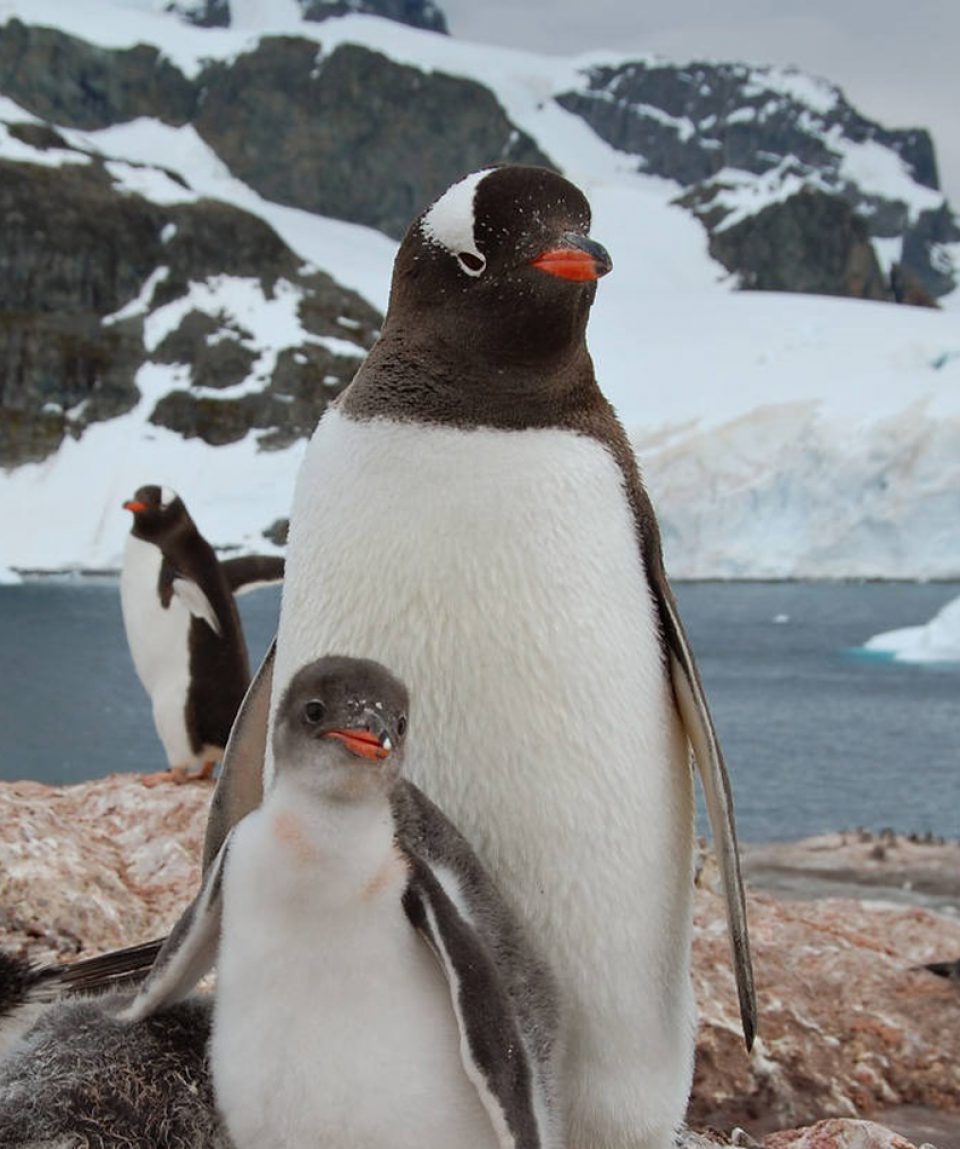 THE GREAT AUSTRAL LOOP – FALKLANDS, SOUTH GEORGIA AND ANTARCTICA – PONANT
DATES: 2023 – 1/28-2/13 (A); 12/20-1/05 (A)
2024 – 1/04-20 (A); 2/01-2/17 (L)
Duration: 17 days / 16 nights 
Embarkation: Ushuaia
Disembarkation: Ushuaia
Ships: A – Le Austral;  L – Le Lyrial
From: $14,350
Pre- and Post-Cruise tours are available.

All about the THE GREAT AUSTRAL LOOP – FALKLANDS, SOUTH GEORGIA AND ANTARCTICA – PONANT.
This all–encompassing journey is an explorer's dream. Begin with the Falkland Islands, and wonderful South Georgia Island, home to thousands of King Penguins and the to the astonishing landscape of Antarctica. Wild, surreal, stunning. To say that this icy expanse that covers over 14 million square kilometers is a bucket list experience is an understatement. Expect to come back a different person.
The classic Antarctica expedition voyage itinerary, aboard the most sophisticated ships sailing with a distinctive French flavor aboard Ponant. Tabletop icebergs, growlers, drift or pack ice… the Antarctic has its own language, which you'll soon speak fluently! We are offering you a chance to sail through the Heart of the Peninsula which offers travelers an enchanting polar desert, a final frontier surrounded by a gigantic ice sheet. This is a fascinating journey to the heart of this remote land, Penguins live in the thousands, waddling on the shores, whilst Humpback Whales come and swim alongside your ship.
On this uninhabited land, which wasn't explored until the 19th century, your encounters with the wildlife will no doubt be one of the highlights of your experience. The Gentoo, Adelie and chinstrap penguins, humpback whales, seals and seabirds will provide you with cherished lifelong memories.
Each day, whether on land, aboard your ship or during a Zodiac® outing, you will be surrounded by a grandiose environment ranging from icebergs to ice floe and ancient glaciers.
We are privileged guests in these extreme lands where we are at the mercy of weather and ice conditions. Landings on certain sites and the observation of certain wildlife cannot be guaranteed. They vary from day to day, making each PONANT cruise a unique experience. The Captain and the Expedition Leader will make every effort to ensure that your experience is as rich as possible, while complying with the safety rules and instructions imposed by the IAATO. 
HIGHLIGHTS
Outings and shore visits in Zodiac®inflatables with a team of experienced naturalist guides.
Lectures and information sessions hosted by our naturalist-guides, covering wildlife, history, geopolitics, the great explorers, climate, environmental protection…
Hiking opportunity.
Visiting research stations and former whaling stations.
Landscapes: a multitude of drifting icebergs, ice floes, imposing glaciers and tall, snow-covered mountains.
Wildlife: humpback whales, Gentoo penguins, Adelie penguins, chinstrap penguins, leopard seals, crabeater seals, Weddell seals and numerous sea birds.
Educational discovery in the respect of environment.
Expedition Highlights
Marvel at spectacular iceberg sculptures and calving glaciers
Set foot on the continent and mainland of Antarctica
Encounter Gentoo, Chinstrap and Adelie Penguins
Spot elephant seals, Antarctic fur seals, Weddell seals, leopard seals and crabeater seals
Watch for whales – humpback, Minke, orca, pilot, and beaked whales
Identify seabirds – Snowy Sheathbill, Antarctic Cormorant, Kelp Gull, Antarctic Tern, Cape Petrels, Wandering Albatrosses, Southern Fulmars, Blue-eyed Shags, Southern Giant Petrels, skuas, Black-browed Albatrosses, Wilson's Storm Petrels, Sooty Shearwaters

The tour package inclusions and exclusions at a glance
What is included in this tour?
Items that are included in the cost of tour price.
ON BOARD-
Meet and Greet by our representatives in Ushuaia and direct luggage transfer from the airport to the ship for port clearance
Gratuities to ship crew
All meals onboard
24-hour room service
Taxes & Port fees
Butler service in the suites
Unlimited WiFi (new!)
Open Bar
On disembarkation days in Ushuaia direct transfer from the ship to the airport
Complimentary boot rental
Complimentary polar parka for you to keep
Whats not included in this tour.
Items that are not included in the cost of tour price.
International airfare
Travel and emergency evacuation insurance
Meals ashore other than those indicated as included
Pre- and Post-cruise programs
Items of personal nature
Day 1

ARRIVE BUENOS AIRES, ARGENTINA

You will be met and transferred to your deluxe hotel. Remainder of the day is free. Arrive a day or two early to see more of the area.

Day 2

BUENOS AIRES - CITY TOUR - DINNER SHOW

Enjoy a full day tour of Buenos Aires, "Paris of South America", arranged exclusively for Explor Cruises' guests. Visit the unique neighborhoods of San Telmo, Recoleta, La Boca, Puerto Madero and Palermo. Lunch is included. This evening, you will be taken to a Dinner & Tango Show at Tango Porteño, Includes round trip transfers and a tango lesson of 1hr before the dinner. Return to your hotel late.

Day 3

FLIGHT TO USHUAIA – EMBARKATION

Transfer from your hotel to the city airport for your included flight from Buenos Aires to Ushuaia. Meet and transfer to ship. Capital of Argentina's Tierra del Fuego province, Ushuaia lies in a bay opening into the Beagle Channel, at the country's southernmost tip.

Day 4

DAY AT SEA

Days at sea are the perfect opportunity to relax, unwind and catch up with what you've been meaning to do. So whether that is whale watching from the Observatory Lounge, writing home to your loved ones or simply topping up your tan by the pool, these blue sea days are the perfect balance to busy days spent exploring shore side.

Day 5

SAUNDERS ISLAND, WEST POINT ISLAND, FALKLAND ISLANDS

A northwesterly outpost of the scenic Falkland Islands, you'll be welcomed ashore by the calls and cries of a huge colony of black-browed albatross. Indeed, the island was originally known as Albatross Island before being renamed to reflect its geographic location. While the albatrosses – that flash white feathers in the rugged cliffs above the waves – are the most well-known residents, they are far from the only animal inhabitants of this remote, isolated land. A huge army of birdlife calls the island sanctuary home, overwhelming the tiny human population and sheep that roam West Point Island's grasses. Meet the rockhopper penguins who scamper and burrow along the coast's boulders, as well as the imperial cormorants who rest here in great numbers. You're also likely to encounter Magellanic penguins during your explorations. Hike the island's quiet landscapes, and look out for endemic plants like Felton's flower carpeting the green interior. Meet some of the world's most incredible wildlife, on the remote Saunders Island. Sitting to the northwest of the Falkland's archipelago, the British established their first settlement here in 1765, at Port Egmont. Remote, wild and wonderful, the island now serves as a lush grazing ground for plenty of sheep – but it's an astonishing place to encounter far rarer animals – from elephant seals to silvery grebes and Peale's dolphins. Connected by sinewy links of beach and sandy dunes, which create some of the most dramatic scenery in the Falklands, the archipelago's fourth biggest island is home to its best birdlife – including a colony of neatly tuxedoed king penguins

Day 6

PORT STANLEY, FALKLAND ISLANDS

Despite it being a stalwart of Britishness, Stanley more resembles Patagonia than Portsmouth. But, despite the windswept, vast and achingly beautiful landscape of the Falkland Islands, don't be too surprised to find the odd pub serving ales and even fish'n'chips. While landmarks such as Christ Church Ca-thedral, with its whalebone arch are 100% local, there is also a good smattering of imported garden gnomes and Union Jacks to remind you whose territory you are really on. How- ever, the true heroes of Stanley are of course the thousands and thousands of penguins. Five species nest here during mating season (including the rare rockhopper penguin). There are virtually no barriers between you and the wildlife; allowing for a truly interactive, authentic and totally unforgettable experience.

Day 7

CHRISTMAS AT SEA

Enjoy a relaxing day at sea.

Days at sea are the perfect opportunity to relax, unwind and catch up with what you've been meaning to do. So whether that is whale watching from the Observatory Lounge, writing home to your loved ones or simply topping up your tan by the pool, these blue sea days are the perfect balance to busy days spent exploring shore side.

Day 8

ELEPHANT ISLAND, ANTARCTICA

Promising thrilling adventure, legendary tales and immaculate Antarctic beauty, Elephant Island is perhaps Antarctica's best- known location. The exploits of its early explorers have immortalized this harsh, monochrome island in the tomes of human history. Believed to take its name from the elephant seals that early explorers spotted lolling on its rocks, the volcanic island was not properly explored until 1916 – when Ernest Shackleton and his men were stricken by the weather and sought salvation on its shores. Their story of survival, stranded in this barren land, is one of humanity's most evocative and inspiring accounts. You'll discover Shackleton's tale for yourself as you arrive in the island's icy realm. The remark- able, slowly flowing Endurance Glacier – which you'll see on arrival here – takes its name from their ship, The Endurance.

Day 9

ANTARCTIC SOUND, ANTARCTICA

Taking its name from the first ship to brave the passageway between the peninsula and the Joinville Island groups back in 1902, the Sound is a raw, sensory assault of imposing iceberg slabs, broken away from the disintegrating Larsen Ice Shelf. Come face-to-face with stadium-sized islands of ice and meet the extraordinary birdlife that call this whitewash kingdom home. Watch colonies of Gentoo penguins hop around, and cape petrels sweep overhead, as the continent's unique wildlife thrives around you.

Days 10-14

ANTARCTIC PENINSULA

Stretching up from the heart of the world's southernmost continent, the Antarctic Peninsula lies a mere 620 mile from Tierra del Fuego and, for many, offers a spectacular first taste of the snow-blanketed landscapes and colossal ice sculptures, which make up Earth's least-explored continent. Unseen by humans until 1820 – a blink of an eye ago in relative terms – this is an adventure sure to make your hairs stand on end, as you experience the thrill of the truly unknown and extraordinary. The vast peninsula is sprinkled with research bases, which are at the frontline of human scientific endeavor, pushing to study and understand this unique landscape, its exceptional wildlife, and the impact that humans are having on this pristine continent. Witness cathedral-sized icebergs up close, and blue-hued glaciers, slowly slipping from imposing locations like Hope Bay. Blanched mountain peaks cover the peninsula, and you'll find thousands of adorable Adelie penguin pairs thriving undisturbed in this peninsula's unique setting.

Day 15

SOUTH SHETLAND ISLANDS

Separated from the Antarctic Peninsula by the Bransfield Strait, nine major islands make up the group. The region was the first to be exploited by sealers in the early 19th century, and because of its proximity to South America, it still is the most visited by scientists and tourists. Chinstrap, Adelie, Gentoo and Macaroni Penguins all breed here. In addition, because it is the warmest part of the continent, large moss beds as well as orange, black, grey and green lichens grow. Leopard seals, Weddell seals, crabeater seals, Southern elephant seals and Antarctic fur seals can be seen in the water and on the beaches.

Days 16-17

DRAKE PASSAGE

The Drake Passage has a notorious reputation for its turbulent seas due to the westerly winds and the funneling effect of the passage. The Antarctic Convergence, a natural boundary where cold polar water flows northward and warmer equatorial water moves southward, is within the Drake Passage. When these two currents meet, nutrients are pushed to the surface, often attracting a multitude of seabirds and whales.

Day 18

Ushuaia, Argentina

After breakfast, disembark Silver Cloud. Transfer to airport for your included slight to Buenos Aires
We recommend adding a few days to explore Patagonia and Buenos Aires.
L'AUSTRAL; LE BOREAL; LE SOLEAL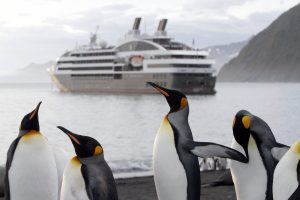 These three sister ships are identical. These superb mega-yachts, with 132 staterooms each, are the result of the expertise of the Italian Fincantieri shipyard and French sophistication, as interpreted by designer Jean-Philippe Nuel. They remain faithful to our philosophy – to create a unique atmosphere, a subtle blend of luxury, intimacy and well-being.
A sleek silhouette softened by elegantly smooth contours and large, arched windows opening up to the sea and the light: so many features come together to give them their distinctive shape. Precious materials, discreet elegance and a perfect balance between chic and casual, combine to make you feel as if you are on your own private yacht. A design blending tradition and innovation, where a nautical mood has been subtly recreated. A welcoming atmosphere of relaxed sophistication revolves around shades of grey, taupe, white and ivory enlivened by touches of cinnamon, caramel and tan.. So many personal touches create the spirit of a "private yacht."
You will encounter unique itineraries, calls inaccessible to large ships, chic and elegant yacht-like ambiance, refined and personalized service as well as gastronomic cuisine.
Fast Facts:
Length: 466 ft
Beam: 59 ft
Draft: 15.3 ft
Cruising speed: 14 knots
Guest decks:  6
Guest capacity (double occupancy): Up to 264 PAX
Normal crew size: 140
Gross tonnage: 10 992 UMS
RESTAURANTS
Loyal to the great French tradition, the haute cuisine on board is worthy of the finest restaurants, where discreet, attentive service is the hallmark.
Our two restaurants welcome you for breakfasts, lunch and dinner. The Gastronomic Restaurant, with a capacity of 268 persons, is situated on Le Liberté Deck and serves you French and international cuisine accompanied by fine wine.
At the Grill Restaurant, you will have the opportunity to eat outside and enjoy buffet lunch and themed dinner.
PUBLIC AREAS
Main Lounge
Afternoon tea, lounge, live music, dance floor and cocktail bar
Access to the outside terrace
 Panoramic Lounge
Library, internet desk, cocktail bar, live entertainment on selected evenings. Direct access to the panoramic terrace.
Open-air Bar (Pool deck)
Overlooking the pool deck
ACCOMMODATIONS ABOARD
Elegance and flexibility of the suites and staterooms, decorated by French interior designer Jean-Philippe Nuel.
Flexible capacity: from 112 to 122 suites & staterooms.
Maximum configuration: 13 suites & 108 staterooms.
Maximum number of suites configuration: 24 suites & 86 staterooms.
Magnificent ocean views: 114 staterooms and suites with balcony
Individually-controlled air-conditioning
Cabin layout: king-size bed, or twin beds, adjoining cabins available (children welcome)
Minibar
Flat screen satellite TV
IPod™ players
Desk with stationery
Electronic safe
French bath products
Dressing table and hairdryer
Bath robes
Satellite direct line telephone
110/220 volt outlets
24hr room service
WiFi
DELUXE STATEROOM
Area : 18 m²
Capacity :up to 2 passengers per cabin
DELUXE SUITE
Area : 27 m²
Capacity :up to 2 passengers per cabin
PRESTIGE DECK 4
Area : 18 m²
Capacity: up to 2 passengers per cabin
PRESTIGE DECK 5
Area : 18 m²
Capacity: up to 2 passengers per cabin
PRESTIGE DECK 6
Area : 18 m²
Capacity: up to 2 passengers per cabin
PRESTIGE DECK 5 SUITE
Area : 36 m²
Capacity: up to 4 passengers per cabin
PRESTIGE DECK 6 SUITE
Area : 36 m²
Capacity: up to 4 passengers per cabin
OWNER'S SUITE
Area : 54 m²
Capacity: up to 2 passengers per cabin
SUPERIOR STATEROOM
Area : 21 m²
Capacity: up to 3 passengers per cabin