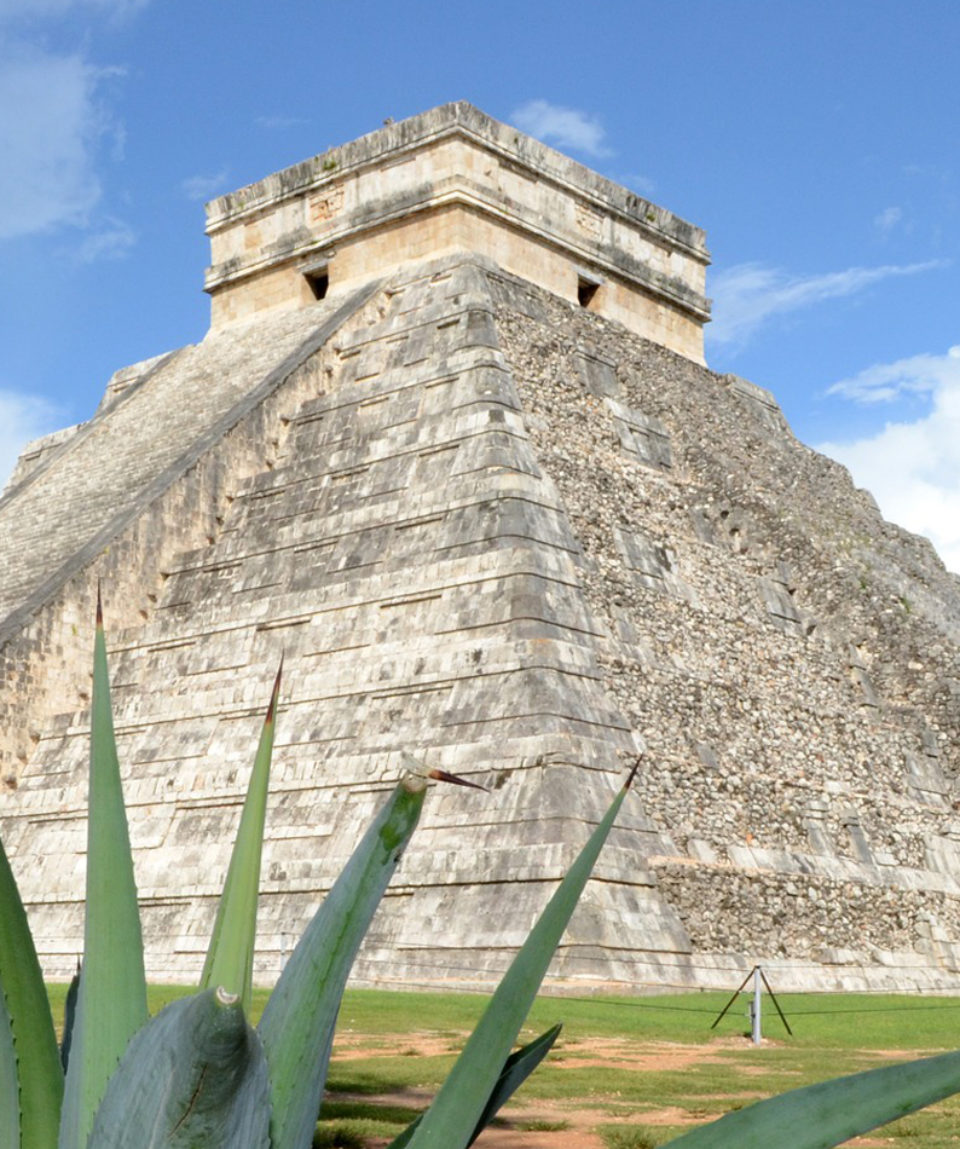 Yucatan Mexico Land & Cruise Tour
DATES:
2022 – JAN 4, 12, 20, 28 | FEB 5, 13| NOV 22, 30| DEC 8, 16, 24
2023 – JAN 1, 17, 25 | FEB 2, 10 | NOV 21, 29 | DEC 7, 15, 23
DURATION: 11 DAYS/10 NIGHTS
ROUND TRIP CANCUN, MEXICO
SHIP: Victory II
FROM: $3,429* per person
Port Fees:  $459 per person

All about the Yucatan Mexico Land & Cruise Tour.
Part land, part sea: This cruise tour provides the best of both worlds. Experience Mexico's distinctive culture on this exclusive voyage crafted to provide exploration into regions and sites that are rarely seen. Greet the morning at the awe-inspiring Mayan city of Chichén Itzá, which is both a UNESCO World Heritage Site and a Wonder of the World, and dive into the cultures of Campeche. Discover the secrets of civilizations past on this dichotomous journey.
HIGHLIGHTS:
 Chichén Itzá
Tulum Archaeological Site
Gran Museo del Mundo Maya de Mérida
Yucatán Peninsula
Cancun
The tour package inclusions and exclusions at a glance
What is included in this tour?
Items that are included in the cost of tour price.
Accommodations aboard ship
Included shore excursions
Onboard meals and entertainment
Pre-cruise hotel
Transfer from pre-cruise hotel to ship
House beverages, including liquor, wine, beer and soft drinks
Unlimited Wi Fi
Expert guides and lecturers.
Whats not included in this tour.
Items that are not included in the cost of tour price.
Gratuities for ship staff and any shore excursion personnel, such as tour guides or bus drivers.
Airfare
Premium spirits, wine and beer
Port Charges ($459)
Travel insurance
Post-cruise hotel, tours or transfers
Day 1

ARRIVE CANCUN, MEXICO

Enjoy your included stay at the pre-voyage hotel. The evening allows time to dine at the resort and enjoy relaxation time before the adventure begins. For your convenience, our Hospitality Desk will be located in the hotel, and our friendly staff can assist with everything from general questions about the upcoming voyage to reservation of premium experiences. Representatives will be available to provide suggestions for dining, entertainment and sightseeing options to maximize your time here.

Pre and Post-cruise arrangements are available to suit your interests.

Day 2

EMBARK IN COZUMEL/TULUM, MX

Today you'll explore the Tulum Archaeological Site on our included tour of one of the best-preserved coastal Mayan cities. We will travel about 80 miles south of Cancun to this well-known destination known for its spiritual history. Tulum is protected on one side by four-story cliffs and on the other by a 12-foot wall. The ruins sit along the east coast of the Yucatán Peninsula overlooking the glittering Caribbean Sea.

Day 3

COSTA MAYA, MEXICO

Enclosed within the borders of the Caribbean Sea and a jungle, Costa Maya offers the retreat that tourists long to experience. Opportunities for relaxation, adventure and everything in between lie just beyond our porting space. Colorful fowl speckle the skyline, and breathtaking views bless the beachfronts. Traditional Mexican cuisine is accompanied by local chocolate and tequila. Whether wandering the ruins of the ancient civilizations that once thrived in the area, or indulging in the pleasantries of the lively markets, a once-in-a-lifetime experience can be guaranteed in Costa Maya.

Day 4

SCENIC SAILING ON THE GULF OF MEXICO

Azure skies watch waves absorb the sun as we set sail on the Caribbean Sea. Revel in the fetch of the gentle waves and another unhurried day of exploring the decks, taking in the view from different perspectives and sharing time with friends.

Day 5

PROGRESO, MX

This day is filled with an included experience to Mérida, the vibrant capital of the Yucatán. While there we'll visit the Gran Museo del Mundo Maya de Mérida to see a magnificent collection of artifacts, including textiles, engravings, ceramics and religious works, and learn about the Mayan culture and the civilization's history. The museum will set the stage for the ancient Mayan civilizations that will be seen throughout this cultural voyage.

Day 6

CAMPECHE, MX

The colors of the rainbow adorn this fortified city on the Yucatán Peninsula's western edge, in the restored fa- çades of the historic buildings lining this UNESCO World Heritage Site's cobblestone streets. Today, you will enjoy an included trolly tour of the city with stops at cultural hotspots: Puerta de Tierra, El Palacio de Centro Cultural and the Our Lady of Immaculate Conception Cathedral. And in the evening, you'll be astounded by an exclusive 45-min authentic Folkloric Show and performance at the city's historic theater, Francisco de Paula Toro.

Day 7

CAMPECHE, MX

The second day of Campeche exploration presents a completely new experience. Your included tour will provide the chance to delve into the Spanish military architecture of the city at Fort San Miguel. An optical performance comes to life in a fountain show. And you can spend some time finding your piece of the city to bring home during your Tukulna shopping experience. For a more in depth experience, guests may choose the optional premium experience to Edzna, a Mayan civilization that has been preserved to give visitors the opportunity to explore and learn.

Day 8

SCENIC SAILING ON THE GULF OF MEXICO

Today we slip our moorings to survey the sapphire can-vas of the Gulf of Mexico. Unwind in seascape and sun- light as the canvas of turquoise and emerald slips by. Scenic sailing reveals the uncommon beauty of life at sea.

Day 9

PROGRESO, MX (DISEMBARK)/VALLADOLID, MX - HOTEL STAY

With our ship docked in the scenic port of Progreso, we travel by motorcoach to spend a night within walking distance of Chichén Itzá. This day includes a city tour of Valladolid, known for its colonial architecture and picturesque beauty – including gorgeous cenotes – Valladolid is a jewel of the Yucatán Peninsula. The streets are colorful and buzzing with life. And unwind in the evening with your accommodations at the Mayaland Hotel to enjoy balconies with garden views, stained glass windows and pyramid horizons. You may also choose an optional evening premium experience to view the incredible sound and light show on the Pyramid of Kukulkán that tells the story of Chichén Itzá in a most unique way.

Chichen Itza is the most famous of the Mayan temples and an important example of post-classic Mayan architecture. Its name means "the well of the Itzá", referring to the origin of its original founders from outside of the Yucatan. The site boasts both Mayan and Toltic architecture, and flourished in trade of precious turquoise and gold from 800 to 1000 CE.

Day 10

VALLADOLID/CANCUN

Awake to the rare and precious opportunity to greet the sun as it rises over the mystical ruins of Chichén Itzá and the fascinating El Castillo – the Temple of Kukulkan. After, enjoy an authentic breakfast at the Mayaland Hotel, explore the architectural wonders at Ek Balam, dine at the Hacienda Selva Maya restaurant and end your day with a transfer to your included post-voyage hotel in Cancun.

Day 11

CANCUN, MX (HOTEL CHECKOUT)

As the journey concludes, there are other opportunities for you to take in the town. Enjoy the city at your leisure prior to your travel home. We can also arrange longer stays, and tours to other nearby attractions.
VICTORY 1 & 2
Victory I and Victory II – 
Agile and Elegant Small Ships, Perfectly Suited to Coastal Cruising
REFINED, SMALL SHIP EXPERIENCES
The indisputable joy of sailing is brought to life on the Victory I and II, agile small ships that easily navigate canals and locks, tranquil bays, and hidden ports where larger ships dare not go. Onboard, fresh, modern design tips its hat to our maritime past as spacious, open-air lounges, inviting dining venues, and generous windows ensure you never miss a chance to savor the view.
Classic private staterooms and elegant public spaces make the Victory I and Victory II feel like home away from home. Find comfort and peace of mind with electronic safes and individual climate control in each cabin. It's easy to unwind in provided robes and slippers, premium mattresses and 100% Egyptian cotton bedding. Keep up to date – or just entertained– with your in-room flat-screen television. Personal service and daily housekeeping caters to your preferences.
INTUITIVE & ATTENTIVE SERVICE
With a caring crew of 90 pampering no more than 200 guests, you'll feel at home from the moment you step on board. Whether it's a favorite cocktail served to you on deck, hot coffee delivered to your room,  or the delicate chocolate on your pillow ensuring sweet dreams, serving you is our pleasure. Throughout the ship, "free flowing" beverages are available 24 hours a day and 24-hour room service is just a phone call away.
ONBOARD SPECIALISTS & INCLUDED EXCURSIONS
Aboard the VICTORY I and II, you'll often travel in the company of engaging specialists focusing on areas such as: marine biology, naval history, ornithology and geology who share their expertise freely in presentations and impromptu discussions throughout your journey. In port, shore excursions with knowledgeable local guides provide meaningful opportunities to uncover the rich history, unique wildlife, and fascinating cultures of the destinations you visit.
Fast Facts:
Date Launched/Rebuilt: 1995/2015
Length: 286 ft
Beam: 50 ft
Draft: 13.5 ft
Tonnage: 4954 t
Cruise Speed: 12 knots
Total Staff: 90
Passenger Capacity: 200
Registry: Bahamas
Mast Height: 197 ft
Onboard Amenities:
Premium mattresses | 100% Egyptian cotton bedding
In-room electronic safe
Individual climate control
LCD flat-screen television (satellite)
Hair dryer and make-up mirror
Alarm clock
Ensuite telephone
24-hour room service
Bottled mineral water, replenished daily
"Free flow" beverage service
Complimentary unlimited WiFi
Daily housekeeping, nightly turndown
Certified medical doctor on board
Salon on board
DECK PLANS and CABINS
All accommodations are air-conditioned and fitted with TV, telephone, hairdryers, mini-fridge, central music, and public address system and safe boxes. The fully equipped bathrooms are finished with marble.
OWNER'S SUITE: This ocean-view suite boasts sweeping views, interior and exterior entrances, a semi-private terrace, one queen bed and one sofa-bed, a sitting area, a complimentary mini bar (restocked daily), an in-room safe, evening canapés, complimentary laundry service and fresh fruit daily.
335 sq. ft.
Semi-private terrace
Queen bed
Mini refrigerator
Interior and exterior entrances
Triple accommodation
Furnished sitting area with a sofa-bed and dining table
Deck 3
Category AA Stateroom: Enjoy an ocean view with direct access to the open-air deck and outdoor seating.
161 sq. ft.
Direct access to the open-air Promenade Deck
Queen bed or two single beds
Mini refrigerator
Writing desk
Deck 4
Category A Stateroom: This spacious ocean-view stateroom offers three windows from which to take in the ever-changing landscape.
185 sq. ft.
Queen bed or two single beds
Writing desk
Deck 3, Staterooms 349 and 350 and Staterooms 303 and 304
Category B Stateroom: This ocean-view stateroom provides sweeping panoramic views.
146 sq. ft.
Queen bed or two single beds
Deck 3
Staterooms 320, 322, 345 and 346 have fixed twin beds, and are not convertible into a double or queen bed.
Category C Stateroom: Enjoy your ocean view in this elegant stateroom.
152 sq. ft.
Queen bed or two single beds
Decks 2 and 3
Staterooms 211 and 213 are connecting
Staterooms 347 and 348 have fixed twin beds, and are not convertible into a double or queen bed.
Category D Stateroom: This ocean-view stateroom provides the perfect sanctuary.
158 sq. ft.
Queen bed or two single beds
Deck 1
Staterooms 103 and 104 have fixed twin beds, and are not convertible into a double or queen bed.
Category E Stateroom: Relax in the comfort of this ocean-view stateroom.
160 sq. ft.
Queen bed
Deck 1
Staterooms 101 and 102 have fixed queen beds.
DECK PLAN –